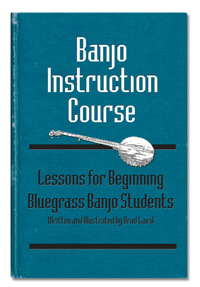 Download: $15


This is the follow-up book to the free lessons you find on the website.
The download also includes illustrated instructions on how to change your banjo strings, how to adjust the action yourself, and how to position the bridge in the right location so that your banjo plays in tune. That section alone is worth more than the price of the book! You'll sound better and your banjo will be easier to play!
Click here to look at the table of contents of the Banjo Instruction Course.
---
For more songs to play pick up a copy of this: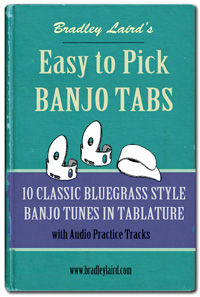 ---
Unlock the hidden secrets of your banjo: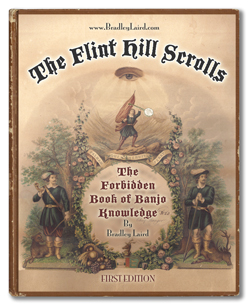 The DIGITAL Banjo Instruction Course (PDF eBook & MP3 Tracks)
Written by Bradley Laird.
This e-book is an extension of the free bluegrass banjo lessons you find on Brad's website. Originally written specifically for Brad's own banjo students, you can now get the complete beginner course as a PDF download.
Make your lessons portable by getting the entire course in a PDF format you can carry around on your iPad, use even when not online, or print it out.
If you have been enjoying the free bluegrass banjo lessons on Brad Laird's website, this is the obvious next step! The free lessons online get you halfway there. The complete downloadable course includes even more material! Here is a complete list of contents included in the course:
Cripple Creek
Cumberland Gap
Boil Them Cabbage Down
Worried Man Blues
Little Maggie
Lonesome Road Blues
Moving Up The Neck
Moving the D Position
Little Maggie (Up the Neck)
The Choke
Lonesome Road Blues (Up the Neck)
Backup Playing
Vamping the Offbeat
Pig In The Pen
Train 45
Bridge Location
Changing Strings
Adjusting String Height
Adjusting String Nut
The Truss Rod
Tightening the Head
*Additional material not found on the website is bold.
You'll go from this all the way to this... in one set of lessons! With a little practice, of course. It's all in there!
All of the songs and exercises have been re-typset in a full 8.5" x 11" format for easier reading and printing. Click here to see a sample page.
The book also includes more tab and information about playing chords and backup so you can play along with hundreds of other songs. The course also includes a guide to basic banjo maintentance with information about how to set your bridge location so your banjo plays in tune, how to change strings, how to adjust string head, and how to tighten the head.
These are the exact lessons which Brad uses with his private lesson students!
The 41 audio tracks which accompany the course are embedded in the PDF eBook file and are also supplied as individual MP3 tracks which you can load into iTunes or any other audio player.
Printable 40 page PDF file format eBook with 41 MP3 tracks, 109.8 MB file size.
Only $15 (Immediate delivery via internet.) You probably paid more than that for your banjo picks!
To order DIGITAL version of Bradley Laird's "Banjo Instruction Course" click this button:

iPad users should read these tips before purchasing.
---
Want to save money? Get the Complete Banjo Learning System with all 5 PDF books + 91 MP3 audio tracks for only $40 Details here...