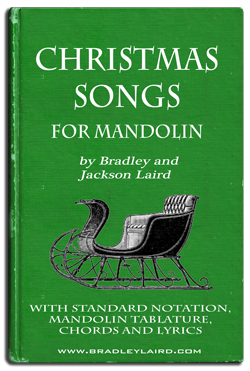 A free preview is available when you click the buy now button. You can download the preview before you purchase.


If you are new to the mandolin please take a look at these video lessons too.
Christmas Songs for Mandolin by Bradley and Jackson Laird is a collection of twelve of the most popular and well-known songs of all time. All of the songs include:
The melody in standard music notation

(treble clef)

Chord letter indications
The melody in mandolin tablature and...
The lyrics
This 29 page PDF file is a wonderful way to make music on your mandolin since all of the songs will be familiar to the player. You can print the pages, hand them out and have a Christmas sing-along! Songs included are:
Angels We Have Heard On High
Deck The Halls
God Rest Ye Merry Gentlemen
Hark The Herald Angels Sing
It Came Upon The Midnight Clear
Jingle Bells
Joy To The World
O Christmas Tree
Silent Night
The First Noel
We Three Kings
We Wish You A Merry Christmas
All of the songs have been presented in keys which are easy on the mandolin. All of the songs can be played on any treble clef instrument (e.g. flute, trumpet, etc.)
Chord charts are included for all of the mandolin chords needed to play the songs. Merry Christmas!
29 page PDF eBook, $8

---
Note: The check out process will allow you to pay using a Credit Card or funds from your PayPal account. You will receive a download link after your transaction is complete. Check your email after you complete the purchase. Sales and downloads are processed by payhip.com.
Remember that it is easy to purchase using your mobile device (phone or tablet) but it is always better to use your desktop or laptop computer to do the actual download.
It's pretty easy to transfer the PDF to your tablet after you download it but I suggest that iPad users read these tips before purchasing. If you have a problem downloading or completing the purchase Email me.