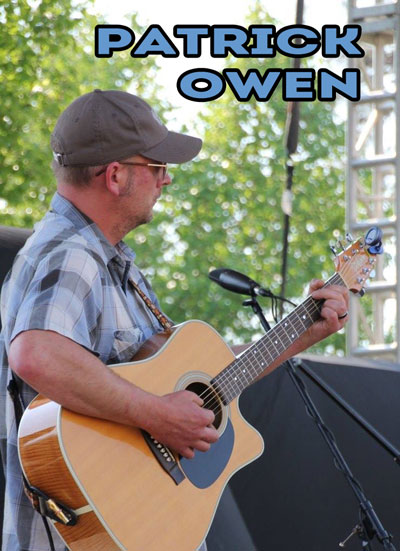 Patrick Owen - Guitar
Born in Americus, Georgia, Patrick Owen did not discover his love for music until his mid-twenties. He earned degrees in forestry and industrial electrical technology before pursuing his true passion. When he was 24 years old, a friend gave him a guitar before leaving for a six-month deployment with the Navy. The friend told Patrick to learn at least one song before he returned. He learned a song and never stopped playing.

Patrick has formed and participated in several bands throughout the years. Patrick worked with Paul Hornsby to produce an album for one of the bands, Fat Jackson, in 2008. Patrick has also produced several tracks for various artists.

In 2010, Patrick decided to pursue formal music education. He attended Pellissippi State Community College in Knoxville, Tennessee where he studied guitar under Brock Henderson in pursuit of a fine arts degree. In 2011, he transferred to Albany State University where he has since studied Jazz under Dr. Joel Johnson. Albany State University music faculty selected Patrick to perform with the school's Jazz Combo Ensemble and Jazz Band. At the recommendation of Dr. Johnson, Patrick was selected to perform with Sheila Raye Charles during Albany's Ray Charles Music Festival.

Patrick specializes in jazz performances. His major jazz influences are Miles Davis, Dave Brubeck, John Coltrane, Django Reinhardt, and Joel Johnson. Other major influences include Brock Henderson, Trey Anastasio, Derek Trucks, and Jimmy Herring. Patrick also enjoys composing and arranging pieces for individual and band performances.
Pat sings and plays rhythm and lead guitar with The Pluck Tones. Extended improvisation with no clear destination is one of this favorite pastimes in music and life in general. He is rarely seen in public performance without a dapper looking hat and is the best backyard cook in the group.
---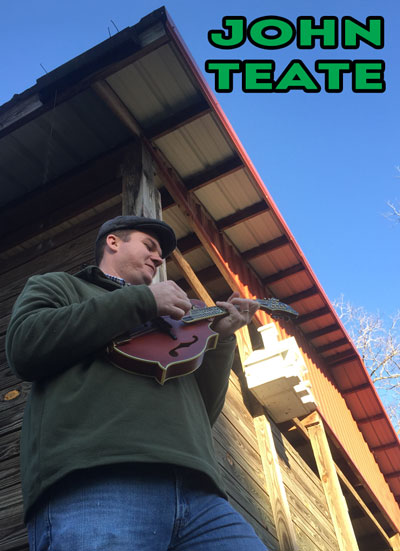 John Teate - Mandolin
John Teate is a native of Vienna, Ga. The son of a pastor, John grew up singing in church. At 17 he got a guitar from his cousin and has been playing ever since. His early influences ranged from the Grateful Dead to Taj Mahal and Muddy Waters.
He joined a cover band in high school (Crossfire) and gigged solo in Americus during college. His love for bluegrass came about from his festival hopping days. With bands like The Steeldrivers, Yonder Mountain String Band, Sam Bush, Ricky Skaggs & Kentucky Thunder and Nickel Creek making the rounds in the jam band festival scene, John was hooked in no time.
After hearing the newer sounds of bluegrass, John sought out the original masters like Bill Monroe, Del McCoury, The Osborne Brothers, and Flatt & Scruggs.
Deciding that guitar players are a dime a dozen (No offense to Patrick) John gravitated towards the mandolin. He still loves playing guitar, but finds the mandolin offers more of a challenge and really lends itself to the music and style The Pluck Tones are after.
He built his chops playing in several local bands in the Americus area. John's interest in the mandolin has recently explanded to beginning work on building his own F-5 style mandolin.
---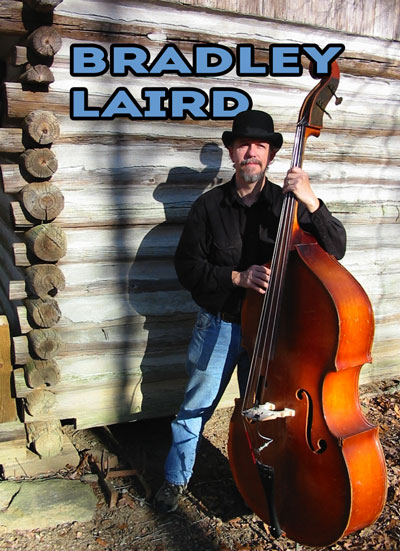 Bradley Laird - Upright Bass
Prior to playing bass with The Pluck Tones, Bradley Laird played mandolin with the Georgia bluegrass group, Pony Express, for a span of over 30 years! Brad first assembled this group together in college (ABAC) in 1979. He also played mandolin with the Atlanta-based bluegrass group Cedar Hill for 26 years beginning in 1983.
Other bands which Brad has performed with include The Incorrigible String Band (bass), The Bluegrass All-Stars (mandolin), The Slackey Family Band (mandolin & electric mandolin), Whoa Nelly (mandolin), Super String Theory (banjo), The Rex Mill Ramblers (banjo, pedal steel, guitar), The Curtis Jones Band (bass), and The Mosier Brothers Band (bass).
Brad has written 14 music instructional books and has created over 70 instructional videos. He also provides free bluegrass instrument instruction on his site www.bradleylaird.com.
During his college years he hosted a weekly bluegrass radio program on WABR called "Bluegrass, Etc." He has recorded several albums, has been a mandolin, banjo, upright bass and guitar teacher since 1982 and is an alumnus of the Atlanta Mandolin Society Orchestra in which he played mandola and mandocello.
Brad was inducted into the Hall of Honor of the Atlanta Country Music Hall of Fame in 2004. He is a charter member of The Ancient Order of the Mandolin and served as their first M.E.M.
In an effort to simplify his life, Brad and his family made the decision to relocate to a small farm in South Georgia. In addition to his performing and teaching, Brad is a video editor, author, piano tuner and technician, homebrewer, flintknapper, pecan picker, gardener, donkey keeper, tends a flock of laying hens and is often seen hanging around Tractor Supply looking for Farmall Cub parts.