Why Build a Banjo?
Encouragement to build an Appalachian Mountain Banjo by Bradley Laird

I can recall sitting on the rug in front of the big, black and white television set and seeing things like Kennedy's casket being loaded onto an airplane, lots of maps with little "burst" symbols superimposed on a map of some place called Vietnam, and a nearly infinite stream of cartoons. The television set gave me my first impression of banjo music by seeing some amazing (and wickedly fast) tenor banjo player on the Lawrence Welk show. Mom and Grandma liked to watch that show and when I saw this guy do his thing I thought it was just about the neatest thing I'd ever witnessed in my 6 long years.
My second exposure to banjo playing was in the summer of 1969. This time I saw a banjo player live. My dad took our whole family to a newspaperman convention in Biloxi, Mississippi. We stayed in some 4 or 5 story hotel right on the beach and mom took me, my brother and two sisters swimming, shopping for t-shirts, rubber spears, bags of seashells imported from Japan, and so forth while dad hung out at the convention. I suppose he was attending seminars on herding paper boys and clever ideas for increasing circulation.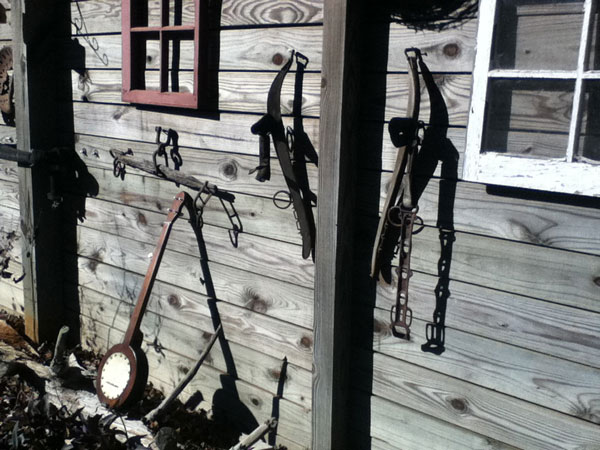 On the closing evening of the convention my parents left us in the room and went down to the pool side area for some kind of party. We peered over the balcony and watched the adult goings-on from above. We were duly warned to keep quiet and not to come down! All the adults were gussied up and standing around drinking and eating and stuff like that. It was pretty boring for a 10 year old kid until I noticed that there was a band setting up and getting ready to play.
I can't recall anything about what kind of band it was, what kind of music they were playing, or anything like that. What I do remember is they had a banjo player. And that dude seemed to be having a lot of fun! He was the only musician I watched. It was the coolest bit of showmanship I had seen in my now full decade of observation when I noticed that he had a blinking light inside his banjo! Talk about a party! What is cooler than a flashing, light-up banjo? The seed was planted.
Some bluegrass musicians, a category I often put myself in, like to tell you about the first time they saw Earl Scruggs when they were a kid. Some like to tell you how their daddy took them to see Bill Monroe back in the day. I've seen them both and played on the same stages with guys like that but I am not ashamed to admit that my first live impression of a banjo player in action was some guy with a light up banjo head at a Holiday Inn in Biloxi.
You might be interested to know that 2 weeks after we came home from Biloxi the town was completely destroyed by the largest hurricane ever to strike the gulf coast. Camille was a wicked mother! It was a full bore Category 5 monster. She killed over 200 folks and I hope one of them was not that banjo player. Who knows? As I sit here today I wonder if perhaps it was divine punishment for that light-up banjo.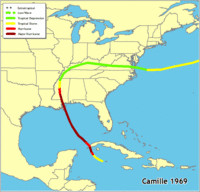 Later, when I was in my early teens, my mother worked at the public library in Jonesboro, Georgia and I spent countless hours there after school waiting for mom to get off work at closing time. I think she worked until 9 pm a couple of nights each week and the whole family just scattered about the library killing time and reading for hours on end. I am confident that "living at the library" was the best education a person could get and my life has been profoundly influenced by it. It was at the Jonesboro library that I got my first taste of hick banjo picking in the form of a record album called "Songs of the Ozarks."
In the mid-seventies it was pretty common for the library to set up some turn-tables with headphones for listening to record albums. I dug through lots of weird, out-dated and thoroughly un-cool records until I found "Songs of the Ozarks". It had a banjo on the jacket! I listened to that thing over and over and, to this day, I can still sing one or two of the songs I learned from that record. But, the thing that fascinated me was that weird, plunky banjo music I heard. Some of it was sharp, percussive and fast. Some of it was dark and plunky and a little less fast. I didn't know what I was hearing but I knew I liked it.
Since I had spent so much time wandering around the stacks I remember seeing some books (maybe it was just two or three) called "Foxfire." I liked looking at the pictures of the old folks in there who were always a-makin' something or other. They reminded me of my grandpa Shultz. And me, since I was always fiddling around a-making something or other too. But, I remembered that there was something about a banjo in there.
A little digging and I found a chapter on banjo making. I read it and checked it out and within a day or two I had completed whipping up a banjo according to the basic instructions in Foxfire. The pot was made from a shelf board I swiped from my closet (I didn't need two in there.), the neck was whittled from a cedar fence post I pried off our back yard fence (which miraculously was never missed) and the head was an animal skin (don't ask) stretched over a ring cut from a coffee can.
I tuned it up, found a book on "how to play a banjo" and nearly wore a hole through that soft cedar neck trying to play Cripple Creek like Earl. Later I stepped up to a $69 Kay 16-bracket banjo from the Penney's catalog and later to a half-dozen other intermediate banjos. But I still have that first banjo. It's the second banjo from the left in the photograph below.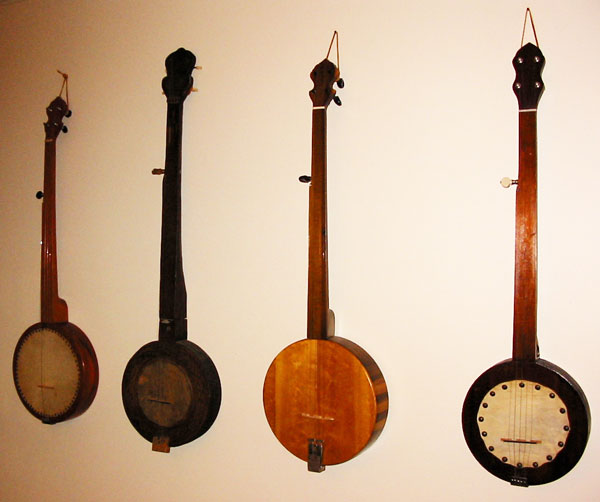 There is some weird, hypnotic thing that happens when one sits down and starts plunking on a banjo and I think effect is strongest when that banjo is a fretless, home-made banjo played in some variant of clawhammer style. You'd have to experience it to know what I mean. If you want to find out for yourself you might want to explore my clawhammer banjo lessons here.
Over the years I have built a wall full of similar banjos, trying out different woods and construction methods. Lately I have been working on creating a set of plans and instructions so that everybody can try their hand at making one of these delightful and mischievous banjos. I will post the finished plans here as soon as I am done.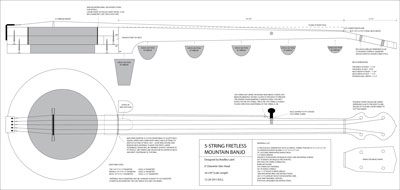 A banjo is supposed by some to be one of the Devil's main instruments (others being fiddle and accordion) and we all go to hell in own way. At least I will be at home down there hanging out with all my banjo picking friends. Would you mind handing me a cold drink?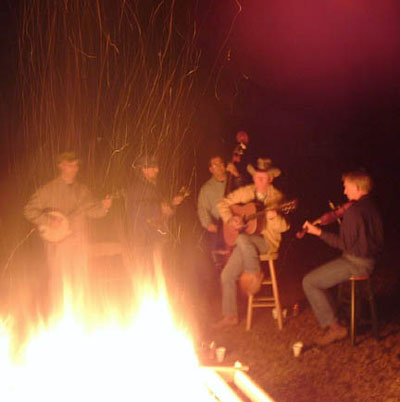 Follow Me