FREE BANJO LESSONS - by Bradley Laird
HOW TO GET STARTED
Welcome to my How to Play Clawhammer Banjo site! This site provides you with free online lessons to get you started playing clawhammer style banjo, also known as frailing. Clawhammer is an old Appalachian mountain banjo style which predates the more contemporary Scruggs style of banjo playing. On the site you'll find the basic information you need to play in the clawhammer style. If you want free lessons in the Scruggs or bluegrass style click here. Have fun!

INDEX OF FREE CLAWHAMMER BANJO LESSONS:
These lessons are devised to get you off the ground playing your banjo. It is a complete beginning banjo introduction to clawhammer banjo style. You will learn to read tablature. You will how to tune and how to play basic clawhammer banjo rhythm. You will learn basic banjo chords. You will learn to pick some popular jam session tunes. These free banjo lessons include the banjo tablature you will need to get started.
If you prefer learning from videos I encourage you to check out my video lesson series here.
Free Lesson - Basic Clawhammer Lick - Learn the fundamental lick in this short sample video. After you watch this you can click here to scope out the other 18 videos in my series.
---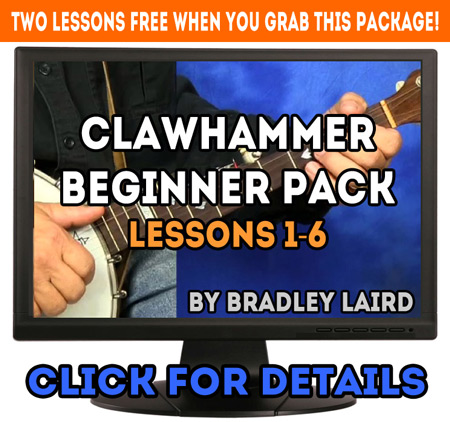 ---
If you recently bought a banjo be sure to click here for advice.