Bradley Laird's Grass Talk Radio Podcast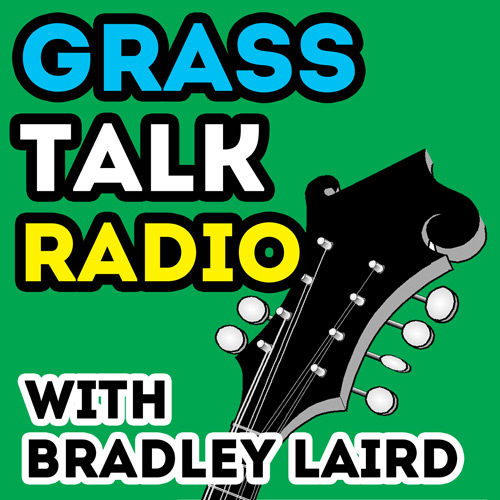 ---
The free podcast for people who play bluegrass music or want to!
I produce this audio show to present ideas, motivation and information to my own website visitors, students, and users of my instructional materials without the strict time contraints of videos.
Many of the topics are useful for anyone learning to play any style of music, but I am focused on what I personally know the most about and that is bluegrass!
I have been a student, a performer and a teacher for 4 decades and am sharing my thoughts on things ("thinks") for people who play mandolin, banjo, bass, guitar, reso guitar. I take some "side trips" but the show is about learning to play bluegrass and for folks who play it!
Dive right in and you're bound to learn some new things and look at things in some different ways.
---
Click on an episode to view the show notes and listen.
Episode 1 - How to Deal With Frustration
In this episode I discuss what to do when you get disgusted with your playing and what to do about it.
---
In this episode I talk about something not many people are willing to tell you. You will end up doing "a" or "b". No question.
---
Episode 3 - Looking in the Mirror
In this episode I discuss self-analysis of your abilities and knowledge as a musician and why this is important.
---
Episode 4 - How To Fail or The Road Less Taken
This episode discusses, at length, two fellows who start out on the trail of becoming bluegrass musicians. Oh, how their paths begin to diverge early!
---
Episode 5 - Can You Teach An Old Dog New Tricks?
In this episode I look at how we train our subconscious mind through repetition, and discuss how (or if) it is possible to make changes at various stages of our musical lives. It's pretty eye opening to consider how many notes you'll play in your life!
---
Episode 6 - Looking for Shortcuts
This episode is scheduled for release Feb. 22, 2017. Subscribe with iTunes using the button above to get the episode when it is published.
---
Episode 7 - Supercharge Your Playing with "The Chip"
This episode is scheduled for release March 1, 2017. Subscribe with iTunes using the button above to get the episode when it is published.
---
THANKS FOR LISTENING • SHARE IT WITH YOUR FRIENDS!
---
A technical note: iTunes can sometimes be slow about updating the "feed" in the iTunes store. You can get around this and get the episodes as soon as they are published if you manually add (subscribe) using your iTunes software. Here are the instructions. It's not hard at all. You can also use Podbean or Stitcher as an optional way of listening. Use the buttons above.
---
Let me know what you think by emailing me your comments and suggestions.
If you like what I am doing you can support my efforts by purchasing some of my products and by sharing my site with others.
---
About your host Bradley Laird.
---
About the intro and outro music:
The intro music is the song "Prison Walls" written by my pal and longtime bandmate Randy Godwin. The version you are hearing was recorded by Pony Express and released on the CD "Messenger".
The musicians are: Randy Godwin, bass and lead vocal; Bradley Laird, mandolin; David Ellis, banjo; Buddy Ashmore, guitar and Mike Estes, fiddle. Maybe you saw Pony Express at El Puente or Motorheads in McDonough, Georgia? We played there for 8 years!
The outro music is a clip from the song "Little Maggie" (trad.) recorded by the band Cedar Hill from Atlanta, Georgia and released on their album "Don't Let The Stars Get In Your Eyes".
The musicians are: Jim "Duck" Adkins, banjo; Bob MacIsaac, guitar; Fred MacIsaac, bass; Bradley Laird, mandolin and David Ellis, fiddle. If you went to bluegrass festivals, or just hung around Atlanta, from 1976 until... well they are still at it!... you probably saw Cedar Hill. I was fortunate to spend 27 years standing between Bob and Duck. What fun it was!
---
Have something to contribute? Want to be on the show?
If you have something to say, and you think it would help the audience, contact me and let's talk about an interview.
Want to feature your band's music on the show? I am seeking recorded music to feature in each episode from bluegrass bands a) currently performing, b) have original material which they hold the copyrights to, and c) want to be heard! Contact me by email.
Have an idea, product or service that you think helps people play better bluegrass? Same deal. Contact me and I'd love to feature you or mention it on the show.