Bradley Laird's Grass Talk Radio Podcast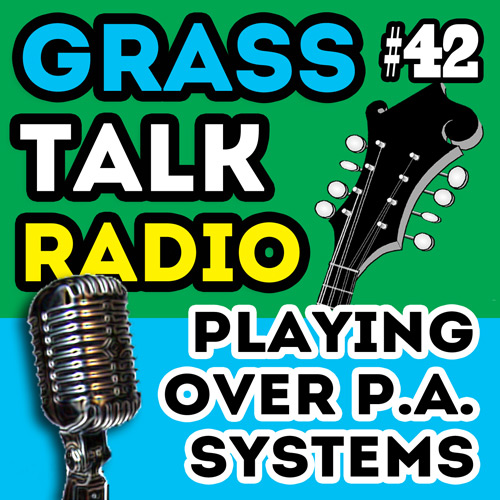 ---
---
---
The podcast for people who play bluegrass music or want to!
---
Episode 42 - Playing Over PA Systems
Continuing in my series about playing in a bluegrass band, this episode discusses the mindset and skills you need to play over other people's P.A. systems--when you are starting out that will be most of your gigs. This episode will help you deal with the reality of that situation. A future episode will talk about running your own sound.
f you like what I am doing you can support my efforts by purchasing some of my products and by sharing my site with others. And, if you enjoy the show please go to iTunes and rate and review the show!
If this embedded audio player does not work on your device just click on one of the alternatives (iTunes, Podbean, or Stitcher) above.
---
| | | |
| --- | --- | --- |
| | | I put together this little "Supporter Pack" as another way for folks to support the show. You can set the amount to whatever suits your lifestyle and download a little complimentary "stuff". |
---
Links and additional information about this episode:
Of course the sharpest listeners caught me saying "puttin' the horse before the cart" at the 2:20 mark. I, of course, meant to say "put the cart before the horse!" It's funny to me how many little slips like that I notice THE DAY AFTER I record these! Of course I know you generally put the horse before a cart. That's the nature of improvisation, folks!
The music at the end of this episode is the band Pony Express playing "Dark Hollow" live at the Red Light Cafe in Atlanta, Georgia on 3/27/03. Buddy Ashmore, lead vocal and guitar; Mike Estes, fiddle; Bradley Laird, baritone and mandolin; David Ellis, banjo; and Randy Godwin, tenor and upright bass.
In the episode I mentioned meeting the great (later) soundman Gene Daniel when he was playing bass for the incomparable Doodle Thrower and the Golden River Grass. That is Gene playing the bass. Note: The on-screen text incorrectly names the fiddle player. That is not Randy Franks on fiddle... though Randy did play with them during some years.
All I can say is Doodle was one of a kind! I saw him give a good harmonica to a little 7 year old boy once at a jam. He told the little guy "You take this here and learn to play it." I would bet my life he had done than a hundred times. Those were good times and I am happy I shared a little of that space!
And James Watson was unique on the banjo. Those fellows knew how to relate to folks and bring the audience in like one of the family. We all could learn a thing or two about performing from guys like that.
• List of all podcast episodes