Bradley Laird's Grass Talk Radio Podcast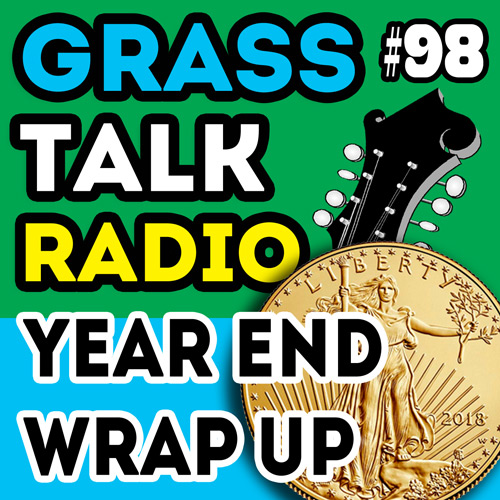 ---
---
---
The podcast for people who play bluegrass music or want to!
---
Episode 98 - Year End Wrap Up
After a bit of mumbo-jumbo about the past year and speculating on the future I get into the meat of this episode. The heart of this episode explores a question sent to me by a listener, Brandon Timms.
He asks about the pros and cons of assigning the lead singing role to a single person versus giving everyone a chance to sing lead. It's a valid question and I hope you enjoy my response. After skinning that cat I close with some discussion of goal-setting.
If you like what I am doing please support my efforts by purchasing some of my products and by sharing my site with others.
If this embedded audio player does not work on your device just click on one of the alternatives (iTunes, Podbean, or Stitcher) above.
---
Like the show?

I put together this little "Supporter Pack" as another way for folks to support the show. You can set the amount to whatever suits your lifestyle and download a little complimentary "stuff".

Unfortunately, producing a "free" podcast is not free. Kick in a little dough and help the cause.
---
NOTES AND LINKS FOR THIS EPISODE:
The closing music for this episode is a a tune I wrote for mandolin in the style of the early 20th century mandolin ensembles and bands. It's called "Laird's March" and is essentially a mandolin duet.
In this version I play both mandolin parts, mandola, mandocello, guitar and bass. Thanks to multi-tracking I was able to simulate a one-man mandolin orchestra.
If you like the tune I have a video lesson which teaches it.
And, here is a direct link to that forum thread which I mentioned on Mandolin Cafe.
• List of all podcast episodes