Bradley Laird's Grass Talk Radio Podcast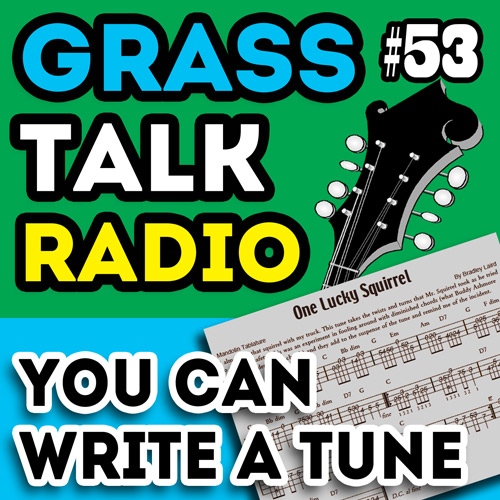 ---
---
---
The podcast for people who play bluegrass music or want to!
---
Episode 53 - You Can Write a Tune
In this episode I do my best to encourage you to try writing your own tunes. I divide my time between technical tips and philosophical considerations. Have fun!
If you like what I am doing you can support my efforts by purchasing some of my products and by sharing my site with others.
If this embedded audio player does not work on your device just click on one of the alternatives (iTunes, Podbean, or Stitcher) above.
---
| | | |
| --- | --- | --- |
| | | I put together this little "Supporter Pack" as another way for folks to support the show. You can set the amount to whatever suits your lifestyle and download a little complimentary "stuff". |
---
Links and additional information about this episode:
There are a lot of things to include here so be sure to scroll all the way down so you don't miss anything. Here we go:
As soon as I completed uploading this episode I thought of something else I meant to say. Here it is:
The art of composing your own tunes, no matter whether they are good or not-so-good, is great training for learning to improvise when soloing. After all, improvisation is merely a high-speed, high-pressure tune-writing experience. I am pretty sure I talked about that in the episode called: Thoughts on Improvisation.
To give mandolin players some examples here are a few tunes of my own:
Link to the tune I wrote called Bionic Mosquito.
Link to the tune I wrote called McDonough
There are lots of other examples in my eBook "Mandolin Excursion" and a few more scattered in my blog.
And finally, here are the two Scruggs solos for you to compare. They are on fire!
And finally, that closing music for the episode is another tune I wrote called "Silver Dollar Hornpipe". That is just a little recording I made so I could teach the tune to other folks. It's an interesting tune since it goes back and forth between the keys of E and A.
• List of all podcast episodes