FREE MANDOLIN TABLATURE from Bradley Laird
---
Do you have the guts to play this tune? Hmmm?
If you are the first person who sends me a link to a YouTube video of YOU playing this tune "McDonough" on the mandolin with someone (or a recording) playing the backing chords I will send you a free download link to my Mandolin Learning System. Frankly, if you can play this beast, you probably do not need my Mandolin Learning System, but you will have the joy of knowing you won and you can give the stuff to a student. One other thing, you have to make it public so I can share your video with the world and and make you famous. (Or infamous as the case may be.)
Our band Pony Express never got around to recording a studio version of the tune but we did include a live cut on the album "Messenger." You can listen to it here to give you an idea of what this tune is all about.
MP3-McDonough recorded by Pony Express live at the Red Light Cafe, Atlanta, Georgia
This tune was born by doodling around on my (then owned, no more) 1914 K4 Gibson mandocello. I was talking to my friend Tara Adcock on the phone one day and just messing with the K4 while we talked. He asked me what I was playing and I said I had no idea. After we hung up I started screwing about with the "head" and pretty soon I had the whole thing. It was a nightmare to play on that giant, rafter-rattling beast, so I tried it on the mandolin and that week I was teaching it to the guys in Pony Express and they took it up with a vengeance. They never disappointed me in my idea of what the tune could and should be. Thanks, Buddy, Mike, Randy and David!
We played that tune weekly (no pun) for 7 years and it used to really get the crowd pumped into a frenzy. Fun tune.
Give it hell! This thing is a beast and will take some work. Getting your band to nail that tag (as we came close in that recording) is key! I hope you appreciate the F minor chord at the very end!
Here is the tab/notation: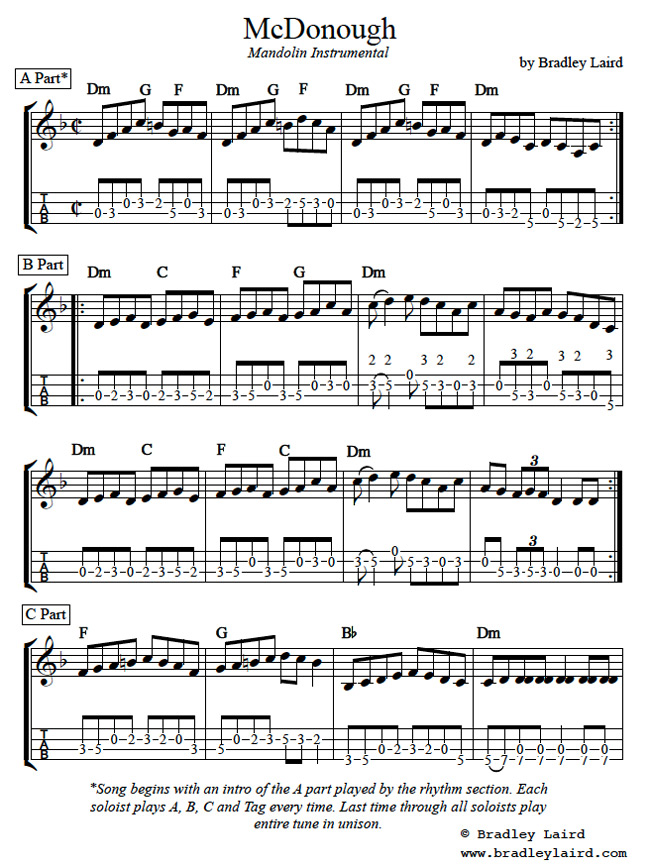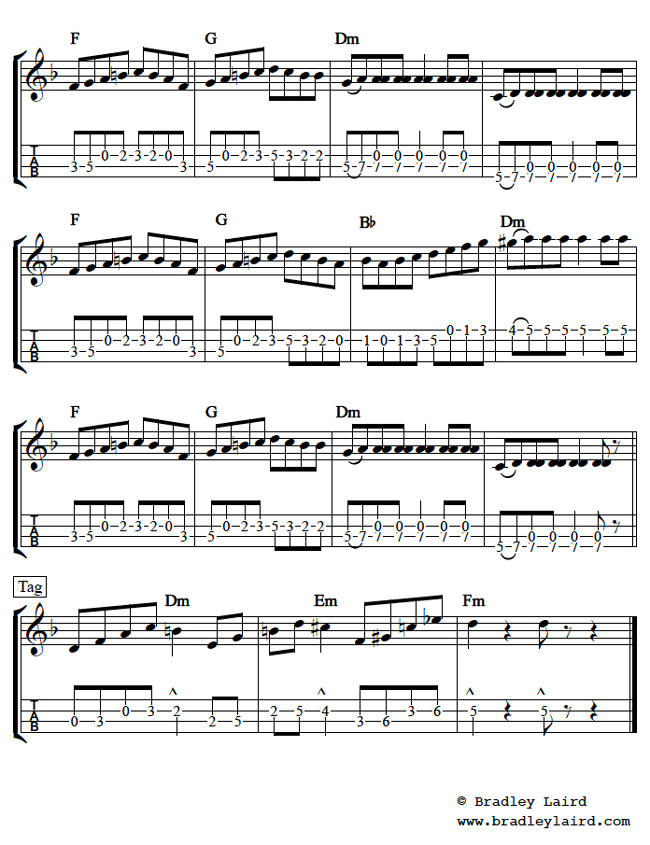 And if you click here you can download both pages as a PDF.
If you just started on the mandolin, or haven't even started, you might want to try this course before tackling the monster "McDonough."
Brad Laird's Beginning Mandolin Instruction Course

Click here for information about my downloadable PDF eBook which expands on the free lessons here on the site.

Larger tablature, more tunes and chords, printable full page format PLUS AUDIO TRACKS of all of the songs and exercises.
Back to free mandolin tablature list