Bradley Laird's Grass Talk Radio Podcast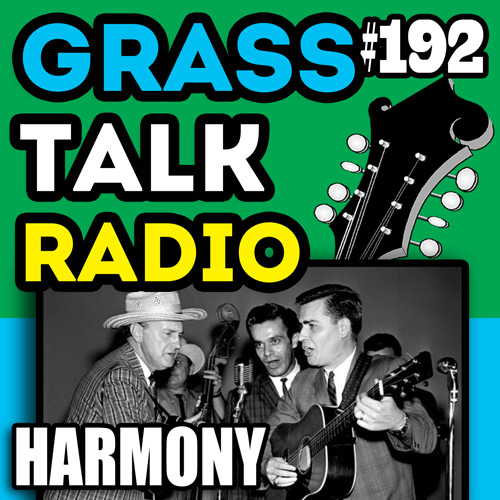 ---
Support the show with Patreon
---
---
The podcast for people who play bluegrass music or want to!
---
Episode 192 - Harmony
This episode is pretty long. Before you listen I suggest that you download a free PDF from my Patreon page. Just go to http://www.patreon.com/bradleylaird and then scroll down to the post called "Basics of Harmony". Download that free PDF then listen.
Note: If you have any trouble finding the document on Patreon you can also download it right here on my own site.
In this episode I discuss how to you figure out who sings which note. I talk about how to get some spit and polish into your vocals. I talk about the standard bluegrass vocal trio "stack" and then explain how to do the other two variations of it. I also talk about how duets work. But, wait, if you order in the next five minutes!!... wait. I am starting to sound like an infomercial! haha Let me start again...
But, wait! I also present a bunch of audio examples by the best in the business (Country Gentlemen, The Osborne Brothers, etc.) to illustrate the principles and methodology of GETTING YOUR SINGING IN SHAPE!
Have fun and PLEASE, take note of the offer in this episode in which I am asking SOMEONE to send in a recording of THEM doing this version of Boil Em Cabbage Down. It's all explained in the episode.
If this embedded audio player does not work on your device just click on one of the alternatives (iTunes, Podbean, or Stitcher) above.
---
The music in this episode is:
Intro - Buddy Ashmore and Pony Express singing "Prison Walls" written by Randy Godwin. Buddy Ashmore (guitar and vocal), Bradley Laird (mandolin and vocal), Randy Godwin (bass and lead vocal), Mike Estes (fiddle) and David Ellis (banjo).
Other music - All music fully described in the audio of the episode.
Thank you to my Patreon supporters. I have said it many times but it bears repeating: YOU are a huge part of making this happen. I do appreciate it! I sincerely do.
Another way to support the podcast is by purchasing some of my instructional products and by sharing my site with others.
---
• List of all podcast episodes