---
BLUEGRASS JAM TRACKS
My favorites for beginners and intermediate players. Grab the free samples and try them out today.
---
FREE BANJO LESSONS Bradley Laird's Free Bluegrass Banjo Lesson site is here!
---
---
---
FREE GUITAR LESSONS Bradley Laird's Free Bluegrass Guitar Lesson site is here!
---
FREE DULCIMER LESSONS Bradley Laird's Free Appalachian or Mountain Dulcimer Lesson site is here!
---
This could be the best five bucks you ever spent! It's easy to hang with the jammers if you have this: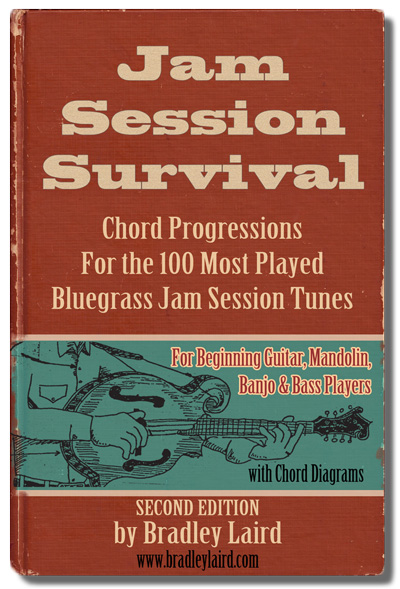 ---
©2019 Bradley Laird
---
Free Bluegrass Jamming eBook - by Bradley Laird

The Ten Jammandments Discussed
Written by Bradley Laird, is a 65 page PDF eBook which expands upon a classic set of rules for bluegrass jam sessions that has been circulating in the bluegrass community for years.

The original "Ten Jammandments" (Thou shalt tune thy instrument, etc.) deserved a more full discussion and further explanation. I have taken the liberty of applying my 40+ years of bluegrass jamming to writing a series of in-depth explanations of these excellent basic ten rules for surviving, enjoying and fitting in at bluegrass jam sessions.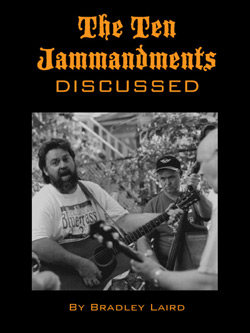 Jam sessions can be a bit mysterious and intimidating for the new player and it is my hope that this publication will help you better understand how jam sessions are organized, what the usual etiquette is when jamming, what is appropriate behavior and a lot more.

I tell a few stories, give lots of examples and I trust that you will enjoy bluegrass jamming more after reading it.
And don't forget: The last page in this free ebook is a coupon which you can use to save 25% off any of my other bluegrass instructional videos, courses and ebook.
---
CLICK HERE TO DOWNLOAD FROM MY ONLINE STORE
---

Note: This PDF is available for downloading on a "pay what you want" basis. If money is tight feel free to download it for free. If you read it and find it really useful, spread the word about the book, and donate if you choose, or purchase some of my other bluegrass instructional products. Thank you and I hope you enjoy the read.
---
Here is a little podcast I recorded talking more about the Ten Jammandments. You might want to listen to it, and all of my other podcasts, too!
---
If you have any questions about the content and learning material please contact me.
---