Bradley Laird's Grass Talk Radio Podcast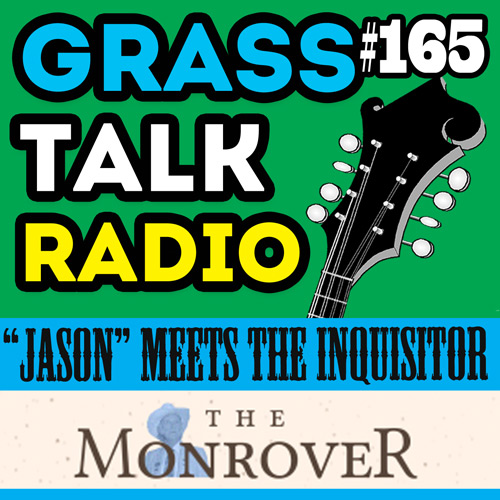 ---
Support the show with Patreon
---
---
The podcast for people who play bluegrass music or want to!
---
Episode 165 - "Jason" Meets The Inquisitor
In this episode you will meet "Jason" (boo hiss!) who has been rightly accused of multiple infractions against civil society and, in particular, reckless destruction of the good character of untold numbers of bluegrass musicians.
As the self-appointed inquisitor, I brought the guilty, the accused before the court of public opinion. Members of the jury, listen to the proceedings and draw your own conclusions. Lest I be accused of attempting to sway the jury let me only say, respectfully, to the supposed Mr. "Jason":
"May The Most High have mercy on your soul. Bailiff! Take him away! The executioner awaits!"

If you enjoy his degrading insinuations, deliberate attacks on innocent women and children, scurrilous lies regarding persons of unquestioned innocence and good character, then I encourage you to witness it for yourself (If you can stomach it.) by visiting themonrover.com.
Legal disclaimer: The opinions expressed in this podcast and by the guest do not represent the views of anyone. All rights reserved. No purchase necessary. Must be over 18 to enter. No refunds. We reserve the right to change our minds without notice. Not responsible for dental damage due to the consumption of steel objects.
---
Thank you to my Patreon supporters. I have said it many times but it bears repeating: YOU are a huge part of making this happen. I do appreciate it! I sincerely do.
Another way to support the podcast is by purchasing some of my instructional products and by sharing my site with others.
If this embedded audio player does not work on your device just click on one of the alternatives (iTunes, Podbean, or Stitcher) above.
---
Links for this episode:
Direct link to themonrover.com.
The music for this episode is:
Intro - Buddy Ashmore and Pony Express singing Prison Walls written by Randy Godwin.
Segue - I can't remember.
Outro - Ditto.
• List of all podcast episodes