Bradley Laird's Grass Talk Radio Podcast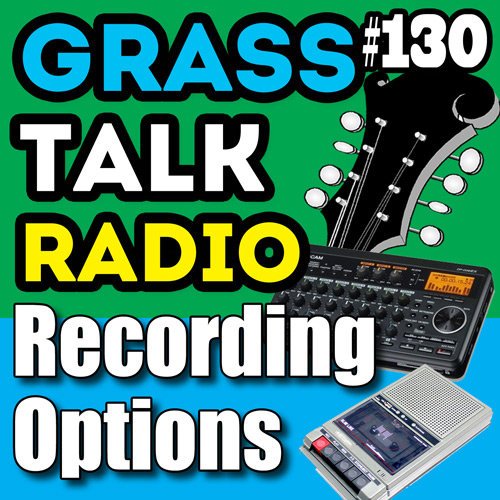 ---
Support the show with Patreon
---
---
The podcast for people who play bluegrass music or want to!
---
Episode 130 - Recording Options
This episode continues the discussion I began in Episode #129. In this show I walk you through the possible levels of technology typically used for personal and home recording.
It all begins with the question "Why are you recording and what is your purpose?" From there I discuss the four basic tech levels. These are:
The Portable Simple Recorder
The Portable Digital Stereo Recorder
The "Porta-Studio" Self-Contained Multi-Track Recorder
and finally
Software/Computer Based Recording Systems
Thank you to my Patreon supporters. YOU are a large part of making this happen. I do appreciate it!
Another way to support the podcast is by purchasing some of my instructional products and by sharing my site with others.
If this embedded audio player does not work on your device just click on one of the alternatives (iTunes, Podbean, or Stitcher) above.
---
Like the show?

I put together this little "Supporter Pack" as another way for folks to support the show. You can set the amount to whatever suits your lifestyle and download a little complimentary "stuff".

Unfortunately, producing a "free" podcast is not free. Kick in a little dough and help the cause.
---
The music for this episode is:
Intro - Buddy Ashmore and Pony Express singing Prison Walls written by Randy Godwin.
Outro - The Old Titanic, sung and all instruments played by me and recorded using a Boss BR8 multi-track recorder--exactly what I described in this episode. You can do stuff like this too! I really liked the mandolin stuff I was doing there.
• List of all podcast episodes