Bradley Laird's Grass Talk Radio Podcast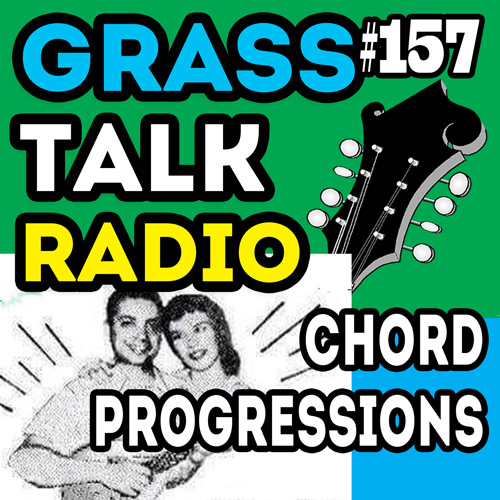 ---
Support the show with Patreon
---
---
The podcast for people who play bluegrass music or want to!
---
Episode 157 - Chord Progressions
All songs, other than purely percussion, involve chord progressions. From one chord blues hits to complex multi-chord broadway tunes, every song involves chord progressions. You should know something about them.
After reading a note from a listener I dive into an discussion of chord progressions and jam tracks. Links to the resources I mentioned are found below on this page. Enjoy!
Thank you to my Patreon supporters. I have said it many times but it bears repeating: YOU are a huge part of making this happen. I do appreciate it! I sincerely do.
Another way to support the podcast is by purchasing some of my instructional products and by sharing my site with others.
If this embedded audio player does not work on your device just click on one of the alternatives (iTunes, Podbean, or Stitcher) above.
---
Links for this episode:
In this episode I mentioned a number of things. Here they are:
Chords By The Numbers video lesson with PDF
Mandolin Master Class eBook with Tracks
my Bluegrass Jam Track Collection
Check 'em out!
---
The music for this episode is:
Intro - Buddy Ashmore and Pony Express singing Prison Walls written by Randy Godwin.
Outro - This is a sample bluegrass jam/practice track for a well known song created by my son Jackson and I. I talked about the new jam tracks I am creating in the episode. I challenged the listeners to decide what key is this in, what are the chords (perhaps even by the numbers) and what is the name of this song. I'll tell you next week what the correct answers are.
• List of all podcast episodes