Bradley Laird's Grass Talk Radio Podcast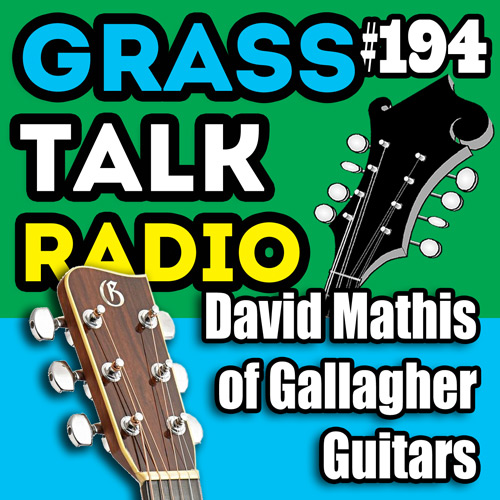 ---
Support the show with Patreon
---
---
The podcast for people who play bluegrass music or want to!
---
Episode 194 - David Mathis of Gallagher Guitars
This episode features my interview with David Mathis who has taken over the reins to continue the legacy of Gallagher guitars. To date only 3,900 of them have been sold since the company was started by J.W. Gallagher in 1965. These Tennessee hand-built guitars were a favorite of the legendary Doc Watson. Enjoy the show!
Here is a link to Gallagher's website.
If this embedded audio player does not work on your device just click on one of the alternatives (iTunes, Podbean, or Stitcher) above.
---
The music in this episode is:
Intro - Buddy Ashmore and Pony Express singing "Prison Walls" written by Randy Godwin. Buddy Ashmore (guitar and vocal), Bradley Laird (mandolin and vocal), Randy Godwin (bass and lead vocal), Mike Estes (fiddle) and David Ellis (banjo).
Segue and outro music - "Summertime" played by Doc & Merle Watson on their Gallagher guitars. Sample from the album "Elementary Doctor Watson".
Thank you to my Patreon supporters. I have said it many times but it bears repeating: YOU are a huge part of making this happen. I do appreciate it! I sincerely do.
Another way to support the podcast is by purchasing some of my instructional products and by sharing my site with others.
---
• List of all podcast episodes