Bradley Laird's Grass Talk Radio Podcast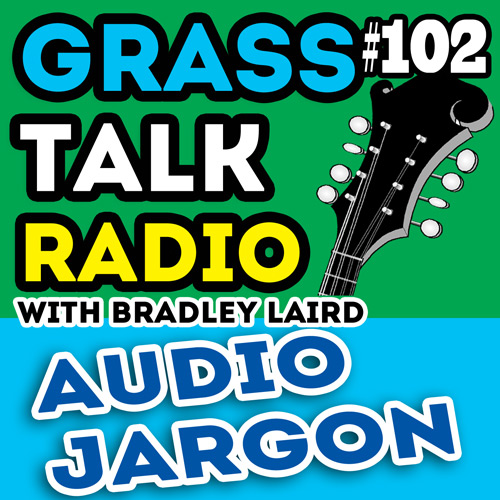 ---
---
---
The podcast for people who play bluegrass music or want to!
---
Episode 102 - Audio Jargon
There are a lot of terms that get thrown about when describing audio. The terms have pretty specific meanings. Are you using the word echo when you really mean reverb? Ride along and I will try to de-mystify some of the basics.
If you like what I am doing please support my efforts by purchasing some of my products and by sharing my site with others.
If this embedded audio player does not work on your device just click on one of the alternatives (iTunes, Podbean, or Stitcher) above.
---
Like the show?

I put together this little "Supporter Pack" as another way for folks to support the show. You can set the amount to whatever suits your lifestyle and download a little complimentary "stuff".

Unfortunately, producing a "free" podcast is not free. Kick in a little dough and help the cause.
---
NOTES AND LINKS FOR THIS EPISODE:
I have removed the link to this book. You'll need to use a search engine to locate it. The microscopic commissions were not worth keeping these links.
---
The music for this episode is:
Intro - (at 0:00) Buddy Ashmore and Pony Express singing Prison Walls written by Randy Godwin.
First segue (at 54:45) - David Ellis and I playing live at Especially For You, College Park, Ga back a few years ago. That's David on fiddle and me on guitar on that particular tune called Liberty.
Outro (at 56:58) - More of David and I playing Liberty. I was really walking those bass runs on guitar.
• List of all podcast episodes