Bradley Laird's Grass Talk Radio Podcast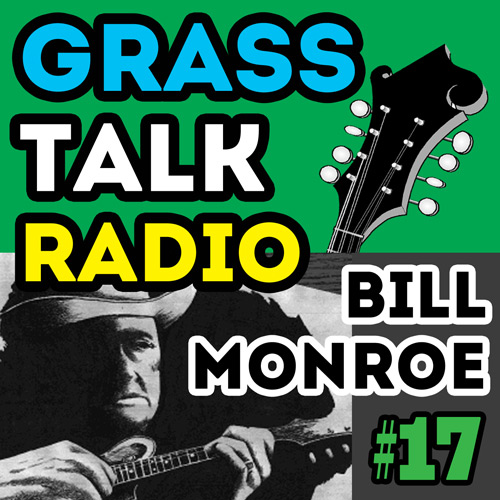 ---
---
Pen and ink drawing of Bill Monroe by Bradley Laird
---
The podcast for people who play bluegrass music or want to!
---
Episode 17 - Bill Monroe and Other Tales
In this episode I finish telling the story about the semi-nightmarish, yet fun, jam session on Little Roy Lewis' back porch and then I tell about the first three times I saw Bill Monroe perform. In doing so I make my case that you cannot call yourself a bluegrasser without a working knowledge and appreciation for the man Bill Monroe, pater familias. Without Bill Monroe there is NO bluegrass.
If you like what I am doing you can support my efforts by purchasing some of my products and by sharing my site with others. And, if you enjoy the show please go to iTunes and rate and review the show!
If this embedded audio player does not work on your device just click on one of the alternatives (iTunes, Podbean, or Stitcher) above.
Links for this episode:
Forgive me for so many links associated with this episode, but check 'em out. Fun stuff...
If you need to get a sense of the Man, Bill Monroe, do yourself a favor and watch this wonderful 2 part video courtesy of Mandolin Cafe.
And then, there is...
My YouTube video about great bluegrass books, including "Boss Men" which is one of the best...
And here is some backstage footage from an early MerleFest and at the Center Stage in Atlanta to give you a flavor of what it was like to be a fly on the wall in the presence of greatness:
Here is the band "Man or Astroman?" who I saw in Litte Five Points one night on the way home from a gig. It is not from the night I saw them but you might get the gist of it and it might help solidify why you like bluegrass.
The napkin signed by Bill Monroe at Mama's Country Showcase. In the background is a pen and ink drawing I did of "The Man, His Own Self" during my early obsessed phase. (I said 1980 in the episode, but it might have been '81. Gettin' hard to recall such details.)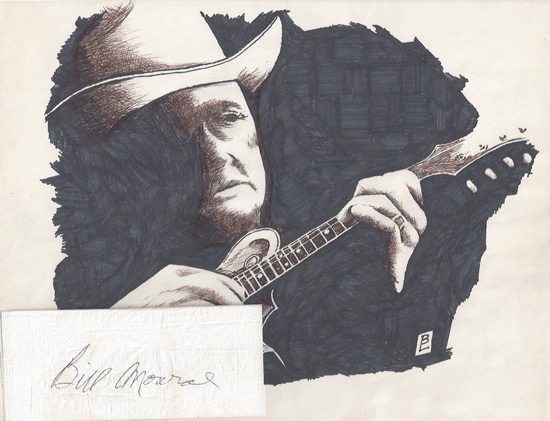 ---
| | | |
| --- | --- | --- |
| | | I put together this little "Supporter Pack" as another way for folks to support the show. You can set the amount to whatever suits your lifestyle and download a little complimentary "stuff". |
---