Bradley Laird's Grass Talk Radio Podcast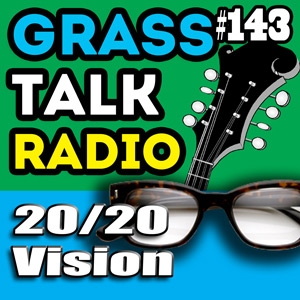 ---
Support the show with Patreon
---
---
The podcast for people who play bluegrass music or want to!
---
Episode 143 - 20/20 Vision
The days are getting longer. Yes, it's true, spring is on the way. Don't sit around wasting your time (like I often do). Get busy finishing some of those unfinished masterpieces and projects! In this episode I tell you about some of my backburner projects, stuff I want to get done, and tell you about picking with my friends over the holidays.
Thank you to my Patreon supporters. YOU are a huge part of making this happen. I do appreciate it! I really, really, really, really do.
Another way to support the podcast is by purchasing some of my instructional products and by sharing my site with others.
If this embedded audio player does not work on your device just click on one of the alternatives (iTunes, Podbean, or Stitcher) above.
---
Like the show?

I put together this little "Supporter Pack" as another way for folks to support the show. You can set the amount to whatever suits your lifestyle and download a little complimentary "stuff".

Unfortunately, producing a "free" podcast is not free. Kick in a little dough and help the cause. Better yet, hit that Patreon link.
---
The music for this episode is:
Intro - Buddy Ashmore and Pony Express singing Prison Walls written by Randy Godwin.
Outro - A live recording (on the H4N recorder sent to me by a Patreon supporter! Thanks!) made over the holidays playing with some of my picking pals in Atlanta. Here we have Buddy Ashmore, guitar; Ed Davis, bass; Tony Duck, mandolin; Mike Estes, fiddle and little old me on Dobro. If you are not doing likewise, you need to get with it.
• List of all podcast episodes