Bradley Laird's Grass Talk Radio Podcast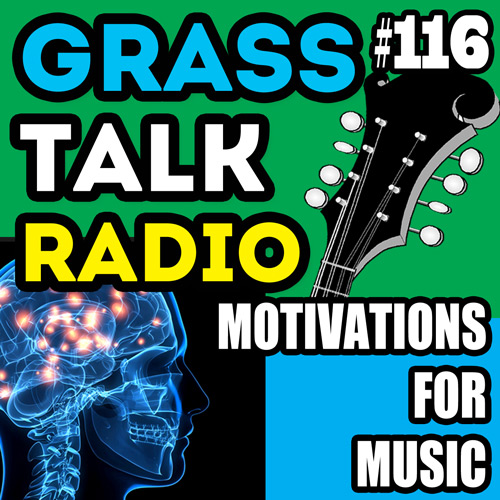 ---
---
---
The podcast for people who play bluegrass music or want to!
---
Episode 116 - Motivations for Music
There are many reason for picking up an instrument and trying to get some musical sounds out of it. In this episode I present my theory that music is NOT about the sounds you make. That's just a part of it. It's about the people. The connections. The communications.
Maybe I am completely "full of it", in which case I encourage you to do your own thinking but I do think you should give these ideas a bit of a spin in your own mind. Who knows? I might have stumbled upon something that makes perfect sense.
I also give a shoutout to my beloved Patreon supporters and my recent GrassTalkRadio supporters. YOU make this happen. Thank you!
You can also support the podcast by purchasing some of my products and by sharing my site with others.
If this embedded audio player does not work on your device just click on one of the alternatives (iTunes, Podbean, or Stitcher) above.
---
Like the show?

I put together this little "Supporter Pack" as another way for folks to support the show. You can set the amount to whatever suits your lifestyle and download a little complimentary "stuff".

Unfortunately, producing a "free" podcast is not free. Kick in a little dough and help the cause.
---
The music for this episode is:
Intro - Buddy Ashmore and Pony Express singing Prison Walls written by Randy Godwin.
Outro - Cedar Hill playing the tail end of a tune I wrote called "Hardball". You can find the tab for mandolin in my PDF ebook "Mandolin Excursion". It is simple to learn and has lots of possibilities for improvisation. Cool chord progression too. Learn it!
• List of all podcast episodes