Bradley Laird's Grass Talk Radio Podcast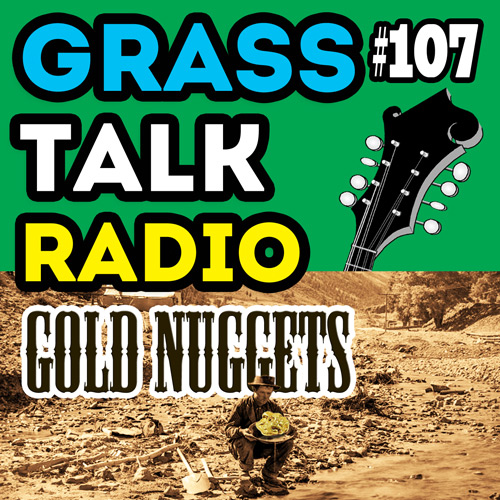 ---
---
---
The podcast for people who play bluegrass music or want to!
---
Episode 107 - Gold Nuggets
Sometimes if you back up and take a second look at things you will discover some gold nuggets which you missed in your headlong rush the first time!
In this episode I explain my "how to ace college" method, guaranteed to bring you up at least 2 letter grades, and the value of note taking and how to challenge your mind. That is a very important topic if you are attempting to improve your musicianship!
Near the end of the episode I talk about my inspiration for a song I wrote entitled "Harvey Johnson" and close the show out with the entire song. I hope you like it and please record and perform it. And if you have any pull with Del McCoury, just once in my life, I'd love to hear him sing it!
If you like what I am doing please support my efforts by purchasing some of my products and by sharing my site with others.
If this embedded audio player does not work on your device just click on one of the alternatives (iTunes, Podbean, or Stitcher) above.
---
Like the show?

I put together this little "Supporter Pack" as another way for folks to support the show. You can set the amount to whatever suits your lifestyle and download a little complimentary "stuff".

Unfortunately, producing a "free" podcast is not free. Kick in a little dough and help the cause.
---
NOTES AND LINKS FOR THIS EPISODE:
---
The music for this episode is:
Intro - Buddy Ashmore and Pony Express singing Prison Walls written by Randy Godwin.
Outro - This is the full version of "Harvey Johnson" written by me and performed here by Cedar Hill on their CD "Don't Let The Stars Get In Your Eyeball Sockets". The players are: Jim "Duck" Adkins, banjo and baritone vocal; Wild Bob MacIsaac, guitar and tenor vocal; Bradley Laird, mandolin and lead vocal; David Ellis, dobro; and Fred MacIsaac, bass fiddle.
• List of all podcast episodes