Bradley Laird's Grass Talk Radio Podcast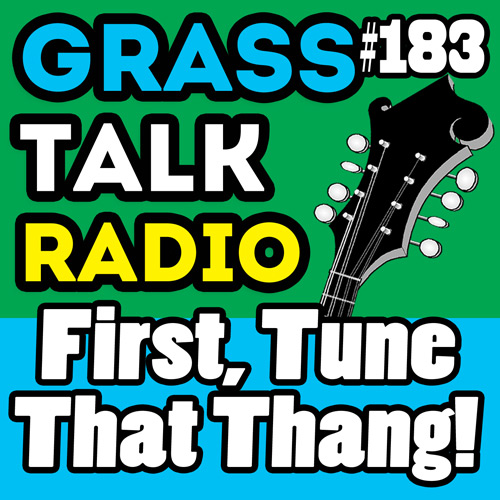 ---
Support the show with Patreon
---
---
The podcast for people who play bluegrass music or want to!
---
Episode 183 - First, Tune That Thang!
After a wandering diatribe I eventually get to the topic of the day and discuss tuning. I talk about how to get an instrument in tune so it will withstand a severe beating and still sound good. I talk about beats. I talk about sending Tony Fauci an invoice. I talk about potatoes, growing shitake mushrooms, chestnut trees, tending donkeys, and lots of other fun stuff.
Note: You will discover as you listen to my tale of Dixon's mandolin woes that (in this episode) I never revealed what what happening with his mandolin. I'll perhaps get around to that in a future show.
If this embedded audio player does not work on your device just click on one of the alternatives (iTunes, Podbean, or Stitcher) above.
---
The music in this episode is:
Intro - Buddy Ashmore and Pony Express singing "Prison Walls" written by Randy Godwin. Buddy Ashmore (guitar and vocal), Bradley Laird (mandolin and vocal), Randy Godwin (bass and lead vocal), Mike Estes (fiddle) and David Ellis (banjo).
Segue and Outro - "Cryin' Holy" performed by Cedar Hill (the originall Cedar Hill formed in Atlanta... not the band who changed their name from Cedar Hill Grass to Cedar Hill, in flagrant violation of a registered trademark filed with the US Patent and Trademark Office. Sorry, Frank. Just sayin'. The tune is from the 1982 album by THE REAL Cedar Hill, on DuckWave Records called "Ruff 'n Ready". The singers are Jeff Johnson, Jim Adkins, Chip Dunbar and Bob MacIsaac.
---
Thank you to my Patreon supporters. I have said it many times but it bears repeating: YOU are a huge part of making this happen. I do appreciate it! I sincerely do.
Another way to support the podcast is by purchasing some of my instructional products and by sharing my site with others.
---
• List of all podcast episodes