Bradley Laird's Grass Talk Radio Podcast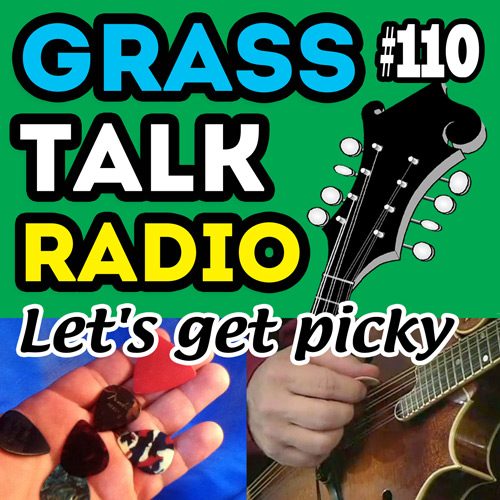 ---
---
---
The podcast for people who play bluegrass music or want to!
---
Episode 110 - Let's Get Picky
The pick. That's where it starts. You can have a hundred grand tied up in a glorious instrument but if your pick is crummy, or if you use it in a crummy way, you might as well be playing that $99 online deal-of-the day instrument.
Or, conversely, you could be playing that $99 special, and take a little care with your pick choice, and make better music.
All right. Let's talk picks...
Thank you to the folks who have helped keep the show going and growing by becoming a GrassTalkRadio supporter. I appreciate it!
You can also support the podcast by purchasing some of my products and by sharing my site with others.
If this embedded audio player does not work on your device just click on one of the alternatives (iTunes, Podbean, or Stitcher) above.
---
Like the show?

I put together this little "Supporter Pack" as another way for folks to support the show. You can set the amount to whatever suits your lifestyle and download a little complimentary "stuff".

Unfortunately, producing a "free" podcast is not free. Kick in a little dough and help the cause.
---
NOTES AND LINKS FOR THIS EPISODE:
The information on making picks from cow hoof material is found within my downloadable book The Mandolin Handbook.
---
The music for this episode is:
Intro - Buddy Ashmore and Pony Express singing Prison Walls written by Randy Godwin.
Outro - Laird's March (Duet) played by me, myself and I. I created a mandolin video lesson which teaches both parts and you can learn it here.
• List of all podcast episodes