Bradley Laird's Grass Talk Radio Podcast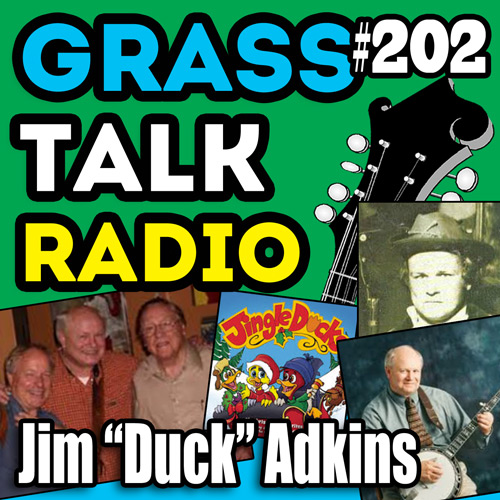 ---
Support the show with Patreon
---
---
The podcast for people who play bluegrass music or want to!
---
Episode 202 - Jim "Duck" Adkins Interview
Duck is many things: musician, banjo player, singer, band leader and teacher. He has been playing and entertaining crowds for fifty years and is a well-known and loved figure in the Atlanta and North Georgia area. Sit back, relax, and enjoy my conversation with this one-of-a-kind bluegrass personality.
(Musical sample notes below)
If this embedded audio player does not work on your device just click on one of the alternatives (iTunes, Podbean, or Stitcher) above.
---
The music in this episode is:
Intro - Buddy Ashmore and Pony Express singing "Prison Walls" written by Randy Godwin. Buddy Ashmore (guitar and vocal), Bradley Laird (mandolin and vocal), Randy Godwin (bass and lead vocal), Mike Estes (fiddle) and David Ellis (banjo).
Seque Music - This is Cedar Hill (Jim Duck Adkins on banjo) kicking off "Runaway" on their 1984 album "Mama Don't Allow."
Outro Music is the "Duck" singing "Your Cheatin' Heart" from Cedar Hill's 1982 album "Ruff N Ready."
Thank you to my Patreon supporters. I have said it many times but it bears repeating: YOU are a huge part of making this happen. I do appreciate it! I sincerely do.
Another way to support the podcast is by purchasing some of my instructional products and by sharing my site with others.
---
• List of all podcast episodes