Bradley Laird's Grass Talk Radio Podcast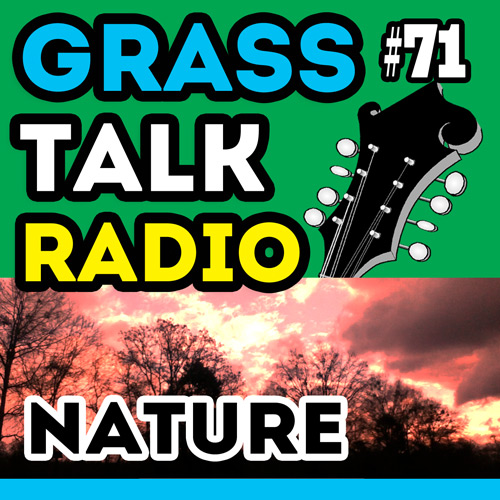 ---
---
---
The podcast for people who play bluegrass music or want to!
---
Episode 71 - Nature
This morning, with no real plan, I was reminded of the importance of our connection with Nature. To quote Butch Robins (speaking about Bill Monroe and his creative process) "If something happened in his conscious surroundings, such as a bird flying by or a dog barking, he would make sounds within the music flowing from him that reflected the action he had just ingested with one of his five senses."
After some rambling, pre-dawn social commentary, I turned the show over to Nature herself. Sometimes the best way to recharge your battery is to un-plug. Enjoy the show!
If you like what I am doing please support my efforts by purchasing some of my products and by sharing my site with others.
If this embedded audio player does not work on your device just click on one of the alternatives (iTunes, Podbean, or Stitcher) above.
---
Like the show? Chuck in some green so I can keep doing this.

I put together this little "Supporter Pack" as another way for folks to support the show. You can set the amount to whatever suits your lifestyle and download a little complimentary "stuff".

Plus, you get that warm, fuzzy feeling when you know that you are part of making it happen.
---
The quote from Butch Robins is from page 210 of his book "What I Know 'Bout What I Know".
The outro music for this episode is the hearty crowing of our rooster named "Carl" a.k.a "Clay Bird". What a set of lungs!
• List of all podcast episodes