Bradley Laird's Grass Talk Radio Podcast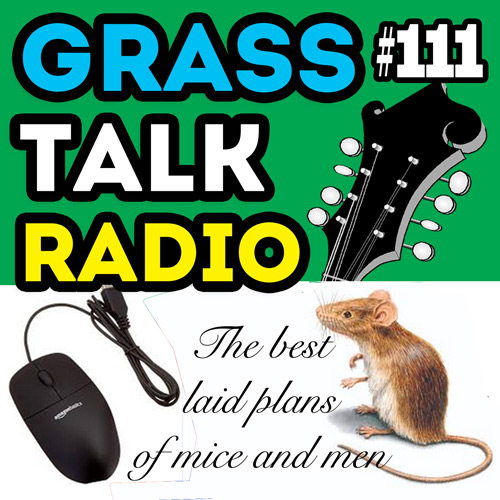 ---
---
---
The podcast for people who play bluegrass music or want to!
---
Episode 111 - The Best Laid Plans of Mice and Men
Mankind, along with many other creatures, is a planner. But often these plans go awry just like the poor mouse in Robert Burns' poem. How can you devise, tweak and implement plans which actually work and bring about positive results?
Plans do work! They can also fail miserably. Come along for this discussion of "plan versus no plan" and the art of attempting to actually follow plans--all related to learning to become a better bluegrass musician.
Note: I don't speak about Burns' poem "To A Mouse" in the podcast but I do think you should read it. I thought of it as I was putting the show graphic together the next day. And then I had the added thought of comparing Burn's mouse to a computer mouse and all of the many plans laid out, devised and schemed, by men today sitting at a computer. That's a topic for another day.
Thank you to the folks who have helped keep the show going and growing by becoming a GrassTalkRadio supporter. I appreciate it!
You can also support the podcast by purchasing some of my products and by sharing my site with others.
If this embedded audio player does not work on your device just click on one of the alternatives (iTunes, Podbean, or Stitcher) above.
---
Like the show?

I put together this little "Supporter Pack" as another way for folks to support the show. You can set the amount to whatever suits your lifestyle and download a little complimentary "stuff".

Unfortunately, producing a "free" podcast is not free. Kick in a little dough and help the cause.
---
NOTES AND LINKS FOR THIS EPISODE:
The various plans I have assembled for learning bluegrass can all be found here and here.
---
The music for this episode is:
Intro - Buddy Ashmore and Pony Express singing Prison Walls written by Randy Godwin.
Outro - Pony Express playing "I Know What It Means To Be Lonesome" at a live show at the Red Light Cafe in Atlanta around 2002.
After Larry Bishop's wild (Josh Graves on acid?) Dobro solo, Mike comes in on fiddle and you can tell there is a moment where the band doesn't know if we are "vamping" and going back to more singing or whether we should play some more solos.
It was a crowd of 9 pickers up there that night and there was some confusion at times--and traffic jams at the mics) But, David Ellis, grabbed the bull by the horns and launched into a banjo break.
And then it happened...
That rhythm of Buddy's guitar, my mandolin, Randy's bass--and the rest of the herd--might well be the "cookin'-est" bluegrass moment I have ever heard. Son, we found THE GROOVE right there. Moments like those are so fleeting but I'll never forget that one. That band was on fire that night.
• List of all podcast episodes