Bradley Laird's Grass Talk Radio Podcast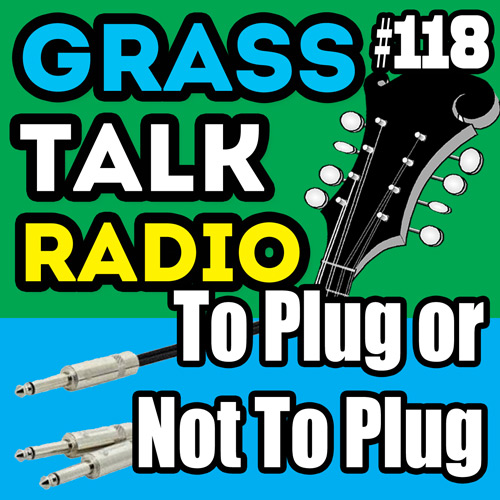 ---
---
---
The podcast for people who play bluegrass music or want to!
---
Episode 118 - To Plug or Not To Plug (In)
That is the question. In this episode I discuss the pros and cons of electric amplification in the bluegrass world. I compare using microphones versus transducers, magnetic pickups, internal and clip on mics.
I go down the rabbit hole of outboard gizmos including preamps, direct boxes, guitar amps, wireless rigs and effects devices.
I also give a shoutout to my Patreon supporters. YOU are a large part of making this happen. Thank you!
Another way to support the podcast is by purchasing some of my instructional products and by sharing my site with others.
If this embedded audio player does not work on your device just click on one of the alternatives (iTunes, Podbean, or Stitcher) above.
---
Like the show?

I put together this little "Supporter Pack" as another way for folks to support the show. You can set the amount to whatever suits your lifestyle and download a little complimentary "stuff".

Unfortunately, producing a "free" podcast is not free. Kick in a little dough and help the cause.
---
Links to things I mentioned in this episode:
The Truth About Vintage Amps Podcast - Created by Fretboard Journal's Jason Verlinde and amp repair expert Skip Simmons. I love this podcast! Experts like Skip are always fascinating to me--regardless of the subject matter. I am sorry that my brain was cooking from the S. Georgia afternoon heat while I recorded the podcast and I couldn't think of Jason and Skip's names.
Here is my apology for not being able to remember the title to John Hartford's "Tater Tate and Allen Mundy" (sic) song which appeared on his Album titled "Mark Twang". I was wrong ol' Tater Tate was first!
---
The music for this episode is:
Intro - Buddy Ashmore and Pony Express singing Prison Walls written by Randy Godwin.
Outro - This is a tune written by a listener named Ben Warner. It's called "Screw Bounce." You can write a tune too! I talk all about this in Episode 53.
Note: Ben's recording was in stereo. My podcast is mono and lower fidelity. The original he sent me sounded even better!
• List of all podcast episodes