Bradley Laird's Grass Talk Radio Podcast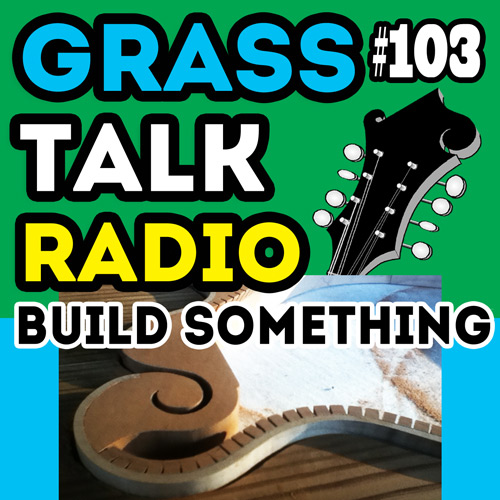 ---
---
---
The podcast for people who play bluegrass music or want to!
---
Episode 103 - Build Something
It's not that difficult to try your hand at instrument building. Even hacking out a fretless "mountain" banjo or a simple dulcimer can be a lot of fun and increase your knowledge of and appreciation for great instruments. Here's my story of home-made instruments.
If you like what I am doing please support my efforts by purchasing some of my products and by sharing my site with others.
If this embedded audio player does not work on your device just click on one of the alternatives (iTunes, Podbean, or Stitcher) above.
---
Like the show?

I put together this little "Supporter Pack" as another way for folks to support the show. You can set the amount to whatever suits your lifestyle and download a little complimentary "stuff".

Unfortunately, producing a "free" podcast is not free. Kick in a little dough and help the cause.
---
NOTES AND LINKS FOR THIS EPISODE:
Here is a blog article I wrote on making your own banjo. That page has some photos of some of the banjos I have made.
And here is a basic plan to help you understand how I made one particular banjo. This plan IS A DRAFT. I have made one instrument following this drawing BUT I learned a few things in the process and I plan to update this with slight modifications. Eventually, especially if folks express interest, I will offer it with a detailed set of step by step instructions and construction photographs.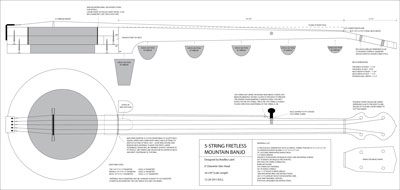 (If you click on the image it will bring up the large version. It's 1.4 MB in size so give it a few seconds to load. You can then save it or zoom in to see the details.)
---
The music for this episode is:
Intro - Buddy Ashmore and Pony Express singing Prison Walls written by Randy Godwin.
Outro - "Shave and a Haircut" from my eBook "Wild and Weird Banjo Endings."
• List of all podcast episodes