Bradley Laird's Grass Talk Radio Podcast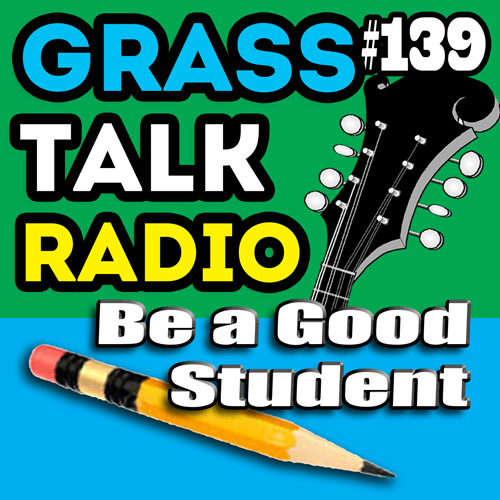 ---
Support the show with Patreon
---
---
The podcast for people who play bluegrass music or want to!
---
Episode 139 - Be A Good Student
Taking private lessons can be a wonderful learning experience or a complete waste of time and money. Much of it depends upon what you do as a student.
In this episode I share ten tips, gleaned from my observations with my own private lesson students over many years, that I think will help you make the best progress when taking lessons. Many of these ideas are important whether you are taking private lessons or studying on your own with videos and books.
Don't forget that you can save a pile with the discount coupon code found in my free eBook The Ten Jammandments Discussed. Download it free here.
I also mentioned Jackson's Christmas Songs for Mandolin eBook. You can get it here. Trust me, when Aunt Sally comes to visit this Christmas she doesn't want to hear you play Salt Creek! She wants to hear some Christmas tunes!
Thank you to my Patreon supporters. YOU are a huge part of making this happen. I do appreciate it!
Another way to support the podcast is by purchasing some of my instructional products and by sharing my site with others.
If this embedded audio player does not work on your device just click on one of the alternatives (iTunes, Podbean, or Stitcher) above.
---
Like the show?

I put together this little "Supporter Pack" as another way for folks to support the show. You can set the amount to whatever suits your lifestyle and download a little complimentary "stuff".

Unfortunately, producing a "free" podcast is not free. Kick in a little dough and help the cause.
---
The music for this episode is:
Intro - Buddy Ashmore and Pony Express singing Prison Walls written by Randy Godwin.
Outro - "Little Maggie" performed by Cedar Hill from the album "Don't Let The Stars Get In Your Eyeballs."
• List of all podcast episodes