Bradley Laird's Grass Talk Radio Podcast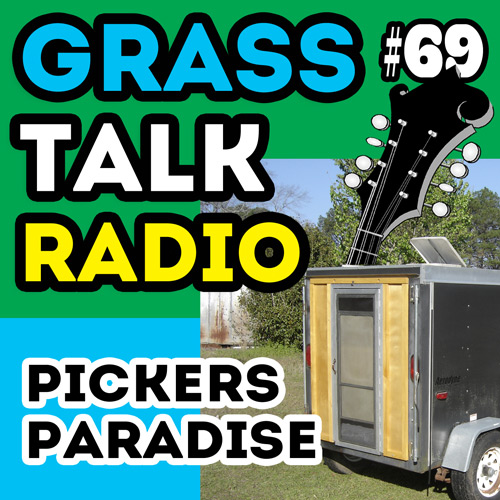 ---
---
---
The podcast for people who play bluegrass music or want to!
---
Episode 69 - Pickers Paradise
This past weekend I practiced what I preach. My wife and son were off on a year-end 5th grade school field trip and I did what any devout bluegrasser would do. I loaded up and took off to a weekend bluegrass festival.
In this episode I recount my experience, talk a bit about some of the bands I saw and heard, and describe the poor man's teardrop camper that was my humble abode for the weekend.
If you like what I am doing you can support my efforts by purchasing some of my products and by sharing my site with others.
If this embedded audio player does not work on your device just click on one of the alternatives (iTunes, Podbean, or Stitcher) above.
---
| | | |
| --- | --- | --- |
| | | I put together this little "Supporter Pack" as another way for folks to support the show. You can set the amount to whatever suits your lifestyle and download a little complimentary "stuff". |
---
Here are links to some of the performers (and the festival venue) I mentioned in this episode. Check 'em out!
Edgar Loudermilk Band featuring Jeffy Autry
Great Southern Music Festival at Picker's Paradise
The outro for this episode consists of three goofy 15 second "traffic spots" that I recorded back in the day. Yes. That is me doing the voice of "Mel" the cartoon mushroom guy on the Mellow Mushroom logo.
That's me doing those Tom Slick cartoon style "yay!"s too! Remember how the Thunderbolt Grease Slapper would cross the finish line and the crowd would holler "Yay!". That's what I was trying to recreate. Crazy to think I used to be paid to do such silliness.
I used to record these traffic spots on a Tascam 4 track cassette machine and they were heard by countless stressed-out Atlanta motorists stuck in traffic on 285 or the downtown connector.
Regarding the "poor man's tear drop camper": I wrote an article for Backwoodsman Magazine (in trade for a subscription) describing it in more detail. You can read the article here.
• List of all podcast episodes