Bradley Laird's Grass Talk Radio Podcast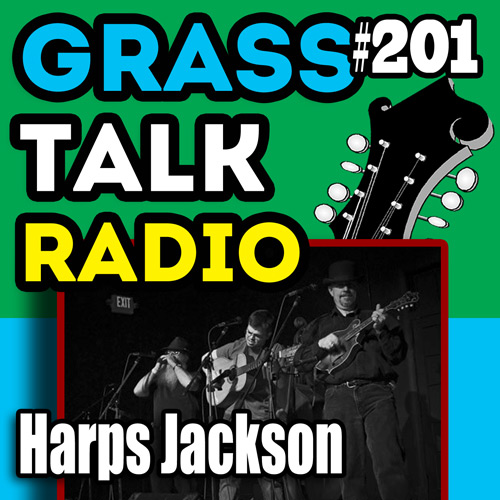 ---
Support the show with Patreon
---
---
The podcast for people who play bluegrass music or want to!
---
Episode 201 - Harps Jackson Interview
The harmonica is the red-headed step child of bluegrass. But Harps can jam so you might want to check this out. After all, Bill Monroe himself travelled with the Harmonica Wizard DeFord Bailey in his tent show days so it is worth a listen and further consideration. (Sorry, Bob MacIsaac. I know how you feel about the harmonica but I think you have just been tortured by too many jack-leg, wannabe harmonica dudes in white tennis shoes and expensive shades.)
We talk about how he got started with harmonica, why he carries an ammo belt full of them, how he has been received by certain "sticks in the mud" in the bluegrass world, how he approaches backup and fills. This is a fun one with a very interesting guy that I feel extremely lucky to have met twenty years ago and a man I call my friend.
If this embedded audio player does not work on your device just click on one of the alternatives (iTunes, Podbean, or Stitcher) above.
---
The music in this episode is:
Intro - Buddy Ashmore and Pony Express singing "Prison Walls" written by Randy Godwin. Buddy Ashmore (guitar and vocal), Bradley Laird (mandolin and vocal), Randy Godwin (bass and lead vocal), Mike Estes (fiddle) and David Ellis (banjo).
Seque Music - 1) "It's Raining Words" by Cory Chambers and The Incorrigible String Band. 2) "Harp's A Blues" by Harps Jackson. Both tunes feature Cory Chambers on guitar and vocals, Brad Laird on bass, Harps Jackson on harmonica and Tim Ussery on Mandolin. Both cuts are from the CD "It's Raining Words" by the Incorrigible String Band.
Thank you to my Patreon supporters. I have said it many times but it bears repeating: YOU are a huge part of making this happen. I do appreciate it! I sincerely do.
Another way to support the podcast is by purchasing some of my instructional products and by sharing my site with others.
---
• List of all podcast episodes