Bradley Laird's Grass Talk Radio Podcast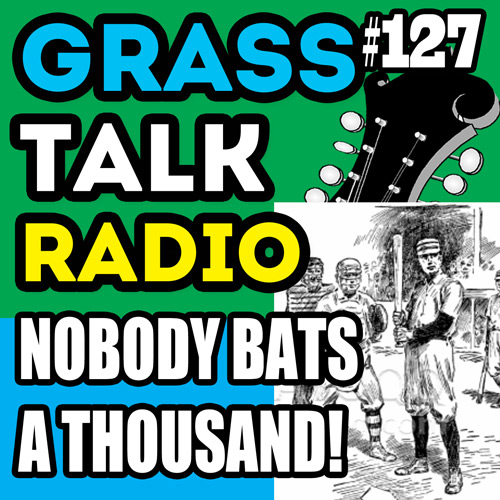 ---
---
---
The podcast for people who play bluegrass music or want to!
---
Episode 127 - Nobody Bats a Thousand!
After two years of steady weekly podcasting I have discovered a lot of similarities between the art of crafting decent podcasts and the art of playing music well.
One of the ten similarities is the fact that nobody gets a base hit every time they step up to the plate. In fact, everybody is going to strike out sometimes. That's all part of the bluegrass game. I hope you enjoy this episode and that it offers you some encouragement and food for thought.
I also included a little shameless plug for my Mandolin Treasure Chest which is a really good value. You can read about it here. I gotta pay the bills too, ya know.
Thank you to my Patreon supporters. YOU are a large part of making this happen. I do appreciate it!
Another way to support the podcast is by purchasing some of my instructional products and by sharing my site with others.
If this embedded audio player does not work on your device just click on one of the alternatives (iTunes, Podbean, or Stitcher) above.
---
Like the show?

I put together this little "Supporter Pack" as another way for folks to support the show. You can set the amount to whatever suits your lifestyle and download a little complimentary "stuff".

Unfortunately, producing a "free" podcast is not free. Kick in a little dough and help the cause.
---
The music for this episode is:
Intro - Buddy Ashmore and Pony Express singing Prison Walls written by Randy Godwin.
Outro - Medium tempo solo on "Red Haired Boy" pulled from my mandolin video lesson "Red Haired Boy". Mandolin is played by me and the backing track is by Curtis Jones. You can download that video lesson here.
• List of all podcast episodes