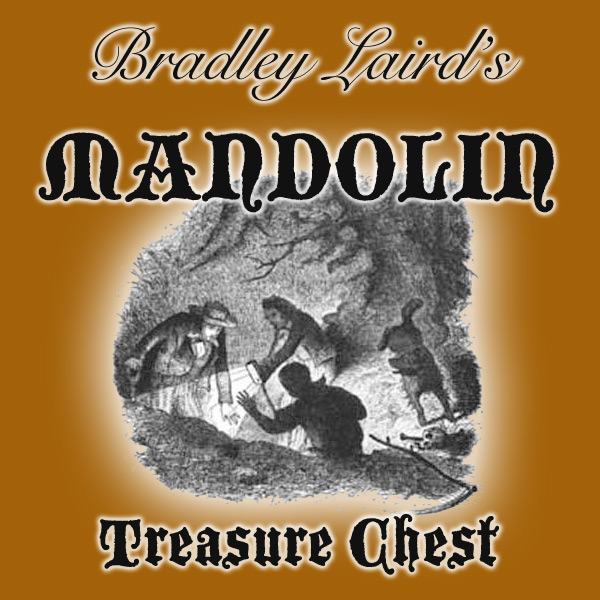 DIGITAL DOWNLOAD Mandolin Instructional Treasure Chest
by Bradley Laird.
This instructional package is designed for beginner and intermediate mandolin students who really want to learn how to play. So many students spend a significant amount of money on their instrument, tuners, case, strap, music stand, etc. and then fail or lag way behind (or quit) because they have not made the investment in learning materials.
Or the student fails to progress because they choose the wrong materials in the wrong order for their needs.
This package is designed to solve all of those problems. You'll have everything you need. You'll know the best order in which to proceed. You'll have "skin in the game". Once a person invests in a long term learning process there is a sense of internal obligation that forms.
Listen to the podcast where I discuss this:
I discussed the Mandolin Treasure Chest at length in this recent bonus episode of my Grass Talk Radio podcast. Listen to the episode here and you'll get the picture:
Here is everything it contains:
(Click any title for a full description of any item.)
24 Video Lessons with Tracks, Tab & Standard Notation PDF

Beginning Mandolin 1
Beginning Mandolin 2
Beginning Mandolin 3
Beginning Mandolin 4
Moveable Major & Minor Chords
Barre Chords & 7th Chords
Greensleeves
Cripple Creek
Chop Chords for Small Hands
Exploring Doublestops 1
Exploring Doublestops 2
Sally Gooden
Red Haired Boy
Old Joe Clark
Whiskey Before Breakfast
Sittin On Top Of The World - 2 Keys
Salt Creek
Blackberry Blossom
Moveable Blues Licks
Playing With Building Blocks
Soloing in Moveable Positions
Chords By The Numbers
Chord Triangulation 1
Chord Triangulation 2

The Lesson Checklist PDF with my suggested order of study is included too!
Also includes these 9 PDF eBooks
Mandolin Instruction Course with Tracks
Mandolin Master Class with Tracks
Mandolin Training Camp with Tracks
The Mandolin Handbook
Mandolin Excursion
Jam Session Survival eBook
Scale Exercises in 12 Keys eBook
Bluegrass Family Band Song Book
Christmas Songs for Mandolin
This package contains 8 hours and 52 minutes of video instruction, 212 MP3 audio tracks and 568 pages in PDF form.
This collection contains everything I would teach a student over the course of 18-24 months of private lessons depending on their willingness to practice and learn the material. Learn this stuff and you WILL BE a competent mandolin player!
These items would cost $282 if purchased individually.
Get the entire Treasure Chest of only $129.95* (That is a savings of over $150!)
To download the Mandolin Treasure Chest click the button below.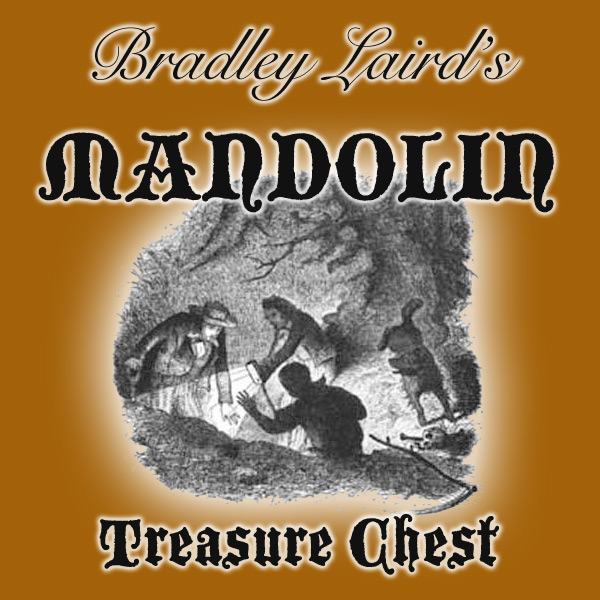 IMPORTANT: This digital download is very large. It is over 4 GB of videos, audio tracks and PDF ebooks. Be sure to allow sufficient time for the download to take place. With good high-speed internet it will take many hours. Please be patient. One guy in Austin said it took 25 minutes. Another person said over 4 hours. I suppose it all depends on the internet speed in your area.
I have had several Windows users report that they had a problem "unzipping" the file. Turns out Windows' built-in unzipper may choke on files over 4 gigs in size. Three fellow downloaders have now suggested that I tell folks about the free unzip utility called 7-zip which opens the download beautifully. Here is a link: https://www.7-zip.org/download.html
Fortunately, Mac users are not reporting similar problems with the file.
Also, be sure to use your laptop or desktop computer and be sure you have sufficient free disk space available. The file is delivered as a single .zip file and after you uncompress the file it will create a folder called "Mandolin Treasure Chest" on your hard drive. Open it and you'll find it full of individual folders with all of the lessons, tracks and PDF eBooks.
The video files are QuickTime and can be played by most computer video players but they work best on the free version of QuickTime player which is available for Windows or Mac. The audio tracks are standard MP3 format and the eBooks are PDF files.
Once you have downloaded the file and unzipped it you can optionally transfer any of the items to your mobile device as needed.
If you have any doubts about how to do the download process you could always go here and download a single file first to try out the process for free.
Payment is made using Credit, Debit or PayPal. All transactions are run through their system but you do not need a PayPal account to purchase. Simply choose the bank card option in the PayPal window.
The files are delivered via Payhip.com. If you have any trouble with the technical process please contact them at contact@payhip.com.
If you have any questions about the content and learning material please contact me.
To download the Mandolin Treasure Chest click the button below.

If you prefer to select individual items, everything is available here at my online store.