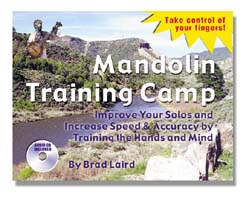 The follow-up book to Mandolin Master Class.
Click here for a free preview of Mandolin Training Camp.
Here is one of the audio practice tracks that comes with this book. This one is in the key of D. You get ALL 12 Keys with the download.
Click here to read the comments of other people who have read this.
The DIGITAL Mandolin Training Camp (PDF Book & MP3 Tracks)
Written by Bradley Laird.
The second book by Brad Laird. This book is a follow-up to Mandolin Master Class and provides 84 pages of information and exercises to help you gain control over your fingers! Mandolin Master Class is about "what to play" and this book is about actually being able to do it! The exercises presented range from easy to extremely challenging. But, the exercises progress in an organized way to lead you to a better understanding of the fingerboard while building speed and dexterity.
The book includes detailed micro-analysis of finger mechanics to help you find the most efficient way to execute passages on the mandolin. The book presents information on position shifting and plenty of exercises to develop that important skill. All of the exercises follow a consistent chord progression and the Audio Companion Tracks provides chord backup for all 12 major keys. A record keeping section allows you to track your progress with each exercise.
Mandolin Training Camp is a challenging and informative book which can elevate the skills of all mandolin players to new levels of expertise. Good for teachers to use as a supplement to teaching songs and chords. All exercises are presented in tablature. No reading of standard notation required. 84 pages.
Printable PDF file format with 15 MP3 tracks, 36.6 MB file size.
Only $20 (Free delivery via internet.)
To order DIGITAL version of "Mandolin Training Camp" click the button below.

You will receive a download link after your transaction is complete. Check your email after you complete the purchase. Sales and downloads are processed by payhip.com.
iPad users should read these tips before purchasing. If you have a problem downloading or completing the purchase Email me.
---
If you order the Complete Learning System you get all 6 of my books + 44 MP3 audio tracks for only $50! Get details here...