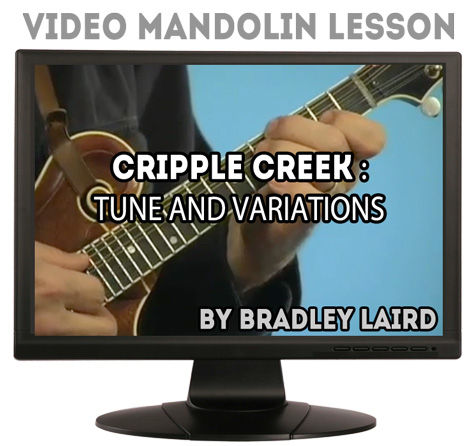 Cripple Creek: Tune and Variations by Bradley Laird, is a downloadable video mandolin lesson that teaches you how to play the popular bluegrass and old-time jamming tune Cripple Creek. This lesson teaches 3 complete versions of the song, each one progressively more advanced. But, trust me on this, by "advanced" I do not mean insanely difficult. I just mean that each version adds in a few new notes and techniques which every beginner should add to his or her bag of tricks.
The first version is a basic break for beginners. The second version includes some embellishments like slides and doublestop harmony. The final version is a "simulated" improvisational solo which is a good introduction to learning how to make up your own solos to this and many other tunes.
The lesson wraps up with a hot bluegrass ending lick that you can use for any song in the key of A.
The download includes 20:53 minute video lesson, 3 MP3 practice tracks and a PDF file with the tab and standard notation for the lesson.
$10

Watch a free demo: