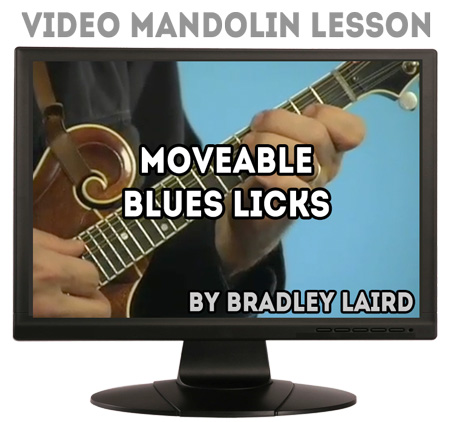 Moveable Blues Licks is a downloadable video mandolin lesson that teaches you how to play 6 blues mandolin licks which can be moved all over the neck to play in any key.
These type of licks are found throughout the improvisation of bluegrass masters like Bill Monroe, the esteemed "Father of Bluegrass". Today, you will see these ideas employed by some of the modern disciples of Monroe such as Mike Compton or Ronnie McCoury. The lesson shows you how to assemble these licks in various ways to construct solos of your own.
This is one of my most popular video lessons, probably because it mentions "blues" and everybody knows that bluegrass is full of the blues! Lesson download includes the 21 minute video, a 3 page PDF with all of the tab and standard notation and 3 MP3 jam tracks for practicing what you learn in 3 keys.
$8

Watch a free demo: