Bluegrass Family Band Song Book - by Bradley Laird
What is this eBook?
This downloadable 83 page PDF eBook contains 10 popular bluegrass songs / tunes arranged for all 5 instruments. In addition it has the chords and lyrics and a lot of other helpful information to make it easier for people to play together!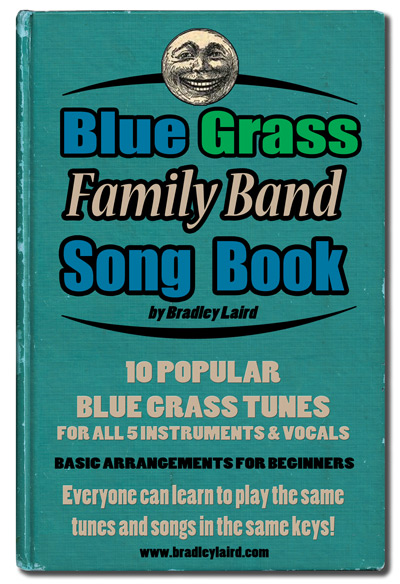 Why did I write this book?
It is very common for beginner courses and books to teach different songs in different keys! This is a problem I have witnessed myself many times over the years. The banjo player knows a few tunes, the mandolin player knows a few, the guitar player knows a few others. But, there might only be one or two tunes which they all know and play in the same key. This book eliminates that problem by giving each player (banjo, guitar, mandolin, bass or fiddle) THE SAME TUNES in the SAME KEYS.
Download a free preview and see for yourself.
What is in the book?
The book can be best understood by taking a look at this free sample download. It includes the table of contents, introduction and all of the arrangements for one of the songs.
Why is the book called "Family Band Song Book"?
I came up with this title because there are lots of family groups playing bluegrass. Perhaps mom or dad plays an instrument, maybe for years, and all the kids are wanting to join in the fun! This collection makes it a lot easier to "get everyone on the same page" so to speak. Frankly I could have called it the "Bluegrass Family Band / Jam Session / Friends Song Book" but that is a little long don't you think?
How to use the book?
Maybe you are trying to get a few friends, co-workers, neighbors, relatives, etc. interested in playing bluegrass together? Maybe you play mandolin and there is a guy at church who plays guitar but has never really played any bluegrass and doesn't know what to do and doesn't know the songs. This book solves that problem.
Perhaps, one of your neighbors plays bass (electric or upright) and you'd like to invite him to play some bluegrass but he confesses that all he has ever played is rock and blues. No problem. Give him the bass section and he'll be off and running. Once again, this book solves the problem.
Maybe you have a daughter who is taking violin lessons, mom is learning guitar, you play the banjo and the violin teacher is not really familiar with bluegrass fiddling. Any violin player who is learning to read standard music notation can read the fiddle parts in this book and learn to play the tunes! Take the fiddle parts to the teacher and ask them to help you learn. Again, problem solved. (You might even convince that violin teacher to play some bluegrass!)
Don't all of these songs exist in other books?
Yes, I am sure they do. But you will have to locate and buy quite a stack of instruction books to come up with 10 of the same songs in the same keys. Just as an example, banjo books almost always teach Cripple Creek and Boil Them Cabbage Down but the mandolin book or fiddle book might not. Or they might just have one of them.
And then there is the problem of keys. You might find the same song in two method books and the banjo book might have the song in the key of G while the mandolin book has the same song in the key of A. Can't play those together without ear plugs!
And then there is the problem of the difficulty of each instrument's part. If you find a version of a song in the right key it might be "from the back of the book" and be way too complex for a beginner to learn. I have arranged ALL of these songs in a fairly simple way without losing the "essence" of the tunes. They are not all "baby" versions but they are on the easy end of the scale.
Once, again, this 83 page collection comes to the rescue.
Download a free preview and see for yourself.
What Songs Are Included?
Again, the best thing to do is download this free preview and take a look at the table of contents but here are the songs included:
Boil 'Em Cababge Down
Bury Me Beneath The Willow
Comin' Round The Mountain
Cripple Creek
Little Maggie
Nine Pound Hammer
Old Joe Clark
Sally Gooden
Salt Creek
Worried Man Blues
What Else Is In The Book?
The book also includes basic chord charts for guitar, mandolin and banjo and bass patterns for every possible chord. It includes a "lead sheet" for each song with the melody line written in standard notation along with the lyrics to the song. I've even included a short course in harmony singing so that these songs can be sung in 2 or 3 part harmony. (lead, tenor and baritone.)
The book also includes tips and suggestions, for each particular instrument, to make things easier to understand.
What if some of the players have zero experience?
The Family Band Song Book assumes that each player already knows the basics of tuning, reading tablature and basic techniques. The arrangements are not hard, but a complete beginner should go through one of my basic courses first.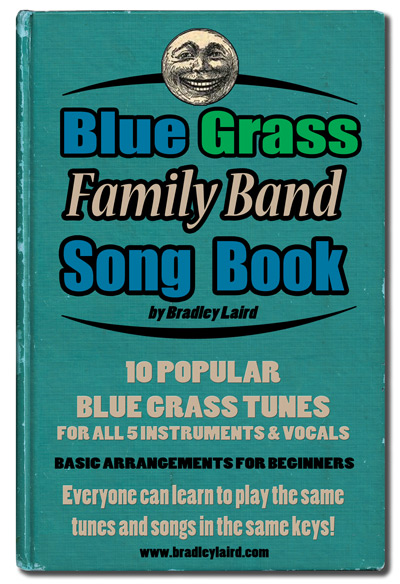 Free DHTML scripts provided by
Dynamic Drive
Follow Me