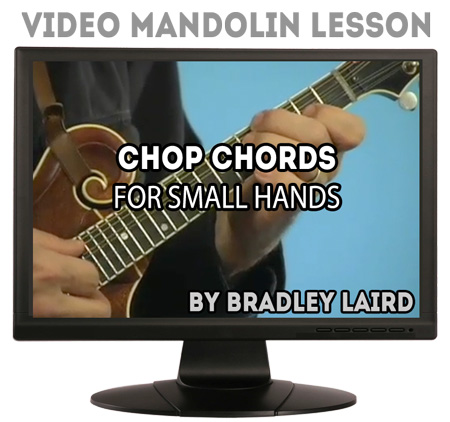 Chop Chords for Small Hands
If you are stuggling for form those BIG chop chords, or have uncooperative or small hands, you should explore this lesson. You'll learn several compact chord forms which can be used to get that percussive chop mandolin sound and they can be moved all over the neck to form every major and minor chord.
This lesson also reveals the navigational secret that usually takes about 15 years for the average player to stumble upon. Save yourself lots of trouble and let me show you the ropes.
The download includes the 31:19 minute video lesson and a 5 page PDF file full of chord charts, tables and tips. This is one of my longer video lessons so be sure to be patient for the download to complete.
$8

Watch a free demo:
This lesson is the logical follow-up to Moveable Major & Minor Chords.