Bradley Laird's Grass Talk Radio Podcast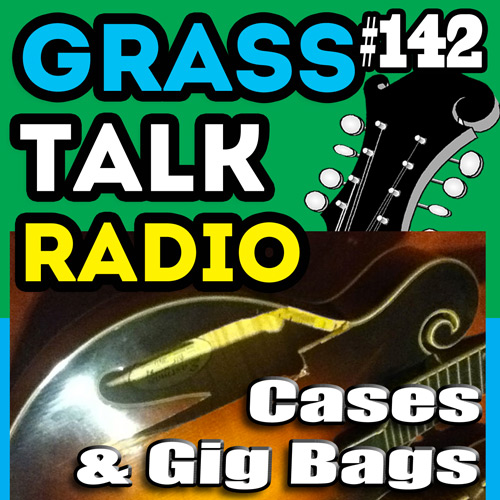 ---
Support the show with Patreon
---
---
The podcast for people who play bluegrass music or want to!
---
Episode 142 - Cases and Gig Bags
Gig bags! What?!! Are you insane? Or maybe you have a "death wish" for your instrumen? In this episode I while away an hour talking about the 8 different types of instrument cases and gig bags and give you my two-cents worth on each. I also toss in some opinions on cats in the house. No offense, cat lovers. I have two cats myself, Yin and Yang.
That photo in the show graphic above is of an very nice Eastman 815, which had a perfectly good hard shell case when I sold it to a student of mine. He tossed the good case, shoved it in a super hip gig bag, crashed his bicycle after a gig and... well... bashed a gaping hole through the bass side f hole. That should tell you what I think of gig bags. Have fun!
There is still time to get Jackson's Christmas Songs for Mandolin eBook. You can get it here. Trust me, when Aunt Sally comes to visit this Christmas she doesn't want to hear you play Salt Creek! She wants to hear some Christmas tunes!
Thank you to my Patreon supporters. YOU are a huge part of making this happen. I do appreciate it! I really do.
Another way to support the podcast is by purchasing some of my instructional products and by sharing my site with others.
If this embedded audio player does not work on your device just click on one of the alternatives (iTunes, Podbean, or Stitcher) above.
---
Like the show?

I put together this little "Supporter Pack" as another way for folks to support the show. You can set the amount to whatever suits your lifestyle and download a little complimentary "stuff".

Unfortunately, producing a "free" podcast is not free. Kick in a little dough and help the cause.
---
The music for this episode is:
Intro - Buddy Ashmore and Pony Express singing Prison Walls written by Randy Godwin.
Outro - A bit of one of my "slow jam" bluegrass tracks which I made for one of my mandolin video lessons. It's a leisurely version of Bury Me Beneath the Willow.
• List of all podcast episodes