Bradley Laird's Grass Talk Radio Podcast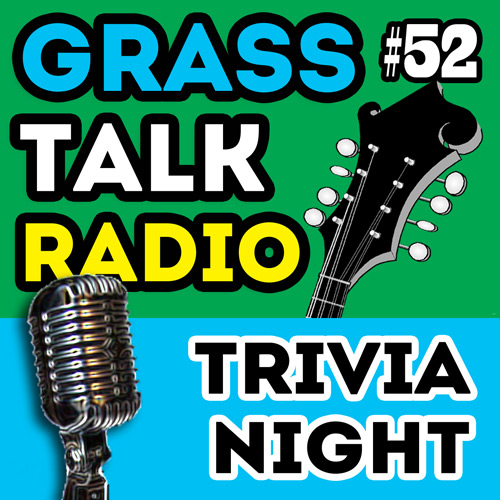 ---
---
---
The podcast for people who play bluegrass music or want to!
---
Episode 52 - Trivia Night
The worlds oldest profession and performing music have a lot in common. Sell it and you still have it. I yak about that for a bit and then, for the meat of the show, you can test your bluegrass knowledge and play trivia. Have fun!
If you like what I am doing you can support my efforts by purchasing some of my products and by sharing my site with others.
If this embedded audio player does not work on your device just click on one of the alternatives (iTunes, Podbean, or Stitcher) above.
---
| | | |
| --- | --- | --- |
| | | I put together this little "Supporter Pack" as another way for folks to support the show. You can set the amount to whatever suits your lifestyle and download a little complimentary "stuff". |
---
Links and additional information about this episode:
Here is a link to the listener poll I created and mentioned in this episode:

Here are the Bluegrass Trivia Questions and Answers from this episode:
---
1. What is the name of the bluegrass band that appeared as the Darlin Family on the Andy Griffith show?
Answer: The Dillards (Rodney and Doug Dillard, Mitch Jayne and Dean Webb)
---
2. The popular bluegrass song Fox on the Run was originally recorded by what English Rock band?
Answer: Manfred Mann and His Earth Band. Turned into a bluegrass song by Bill Emerson, and also the Country Gentlemen
---
3. Including all 5 members of Pony Express, how many G strings are on stage? (This would always get a few chuckles)
Mandolin 2, Guitar 1, Bass 1, Fiddle 1, Banjo 2 = Total 7
---
4. Name Bill Monroe's first banjo player.
Answer: Stringbeans, Dave Akeman.
---
5. The banjo instrumental called Foggy Mountain Breakdown (by Earl Scruggs) served as the theme song for what Hollywood movie?
Answer: Bonnie and Clyde, 1967, starring Warren Beatty and Faye Dunaway - Historically inaccurate since the movie took place in the 30s before bluegrass hit the scene in the mid-40s.
---
6. Ralph Stanley, famous for his appearance in Oh Brother Where Art Thou was teamed with his brother until his death in 1966. What was his brother's name?
Answer: Carter Stanley
---
7. Lester Flatt and Earl Scruggs' band was sponsored for many years by what milling company?
Answer: Martha White
---
8. What banjo player was hired by Bill Monroe in 1963 and introduced the melodic banjo style to bluegrass audiences?
Answer: Bill Keith, aka Brad Keith
---
9. Bill Monroe's uncle, a renowned fiddler in the area of Kentucky where Bill was raised, is immortalized in the the song titled "Uncle Penn". What was Uncle Penn's first and last name?
Answer: Pendleton Vandiver
---
10. What is the name of the town in Kentucky that was Bill Monroe's birthplace and is also his final resting place?
Answer: Rosine, Kentucky
---
11. In the song Rocky Top, first recorded by the Osborne Brothers, a certain crop is mentioned which is difficult to cultivate in the vicinity of Rocky Top. What crop does the song refer to?
Answer: Corn
---
12. True or False: Bill Monroe, who is considered the inventor of bluegrass music, experimented with using an accordion in his band.
Answer: TRUE
---
13. Hats are very popular headwear for traditional bluegrass bands. Which of the following bands does not or did not normally wear hats while performing:
a. Bill Monroe
b. Flatt and Scruggs
c. The Del McCoury Band (or the Dixie Pals) Correct Answer
d. Jimmy Martin
---
14. Today thousands of bluegrass festivals are held all over the world. The first ever bluegrass festival, held at Fincastle, Virginia, took place in what year?
a. 1945
b. 1955
c. 1965 Correct answer
d. 1975
---
15. What are Bill Monroe's initials? (3 letters)

Answer: WSM they are also the call letters of the famous Nashville AM radio station (650 AM) which broadcasts the Grand Ol Opry.
---
Bonus Questions:
Before more democratic band names came into vogue (like Seldom Scene, New Grass Revival and Hot Rize) it was common for bands to list the leader's name and the band's name such as Buddy Ashmore and Pony Express. What is the full name of each of the following bands:
1. Bill Monroe and the BLUE GRASS BOYS
2. Jim and Jesses and the… VIRGINIA BOYS
3. Don Reno, Red Smiley the… THE TENNESSEE CUTUPS
4. Alison Krause and… UNION STATION
5. Flatt and Scruggs and… THE FOGGY MOUNTAIN BOYS
6. Doyle Lawson and… QUICKSILVER
7. Claire Lynch and… THE FRONT PORCH STRING BAND
8. Jimmy Martin and… THE SUNNY MOUNTAIN BOYS
9. J.D Crowe and… THE NEW SOUTH
10. Lester Flatt and… THE NASHVILLE GRASS
---
Closing music in this episode is a live recording of Buddy Ashmore and Pony Express playing "The Tattooed Lady".
• List of all podcast episodes