Bradley Laird's Grass Talk Radio Podcast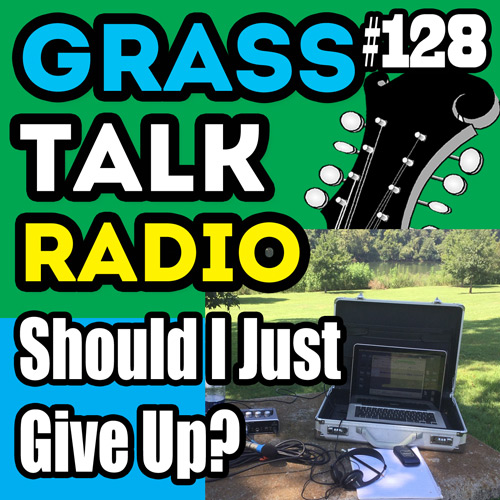 ---
Support the show with Patreon
---
---
The podcast for people who play bluegrass music or want to!
---
Episode 128 - Should I Just Give Up?
This episode serves up my answer to a listener's question about really wanting to do something but feeling hogtied by other obligations. I also dish out some advice on starting up a jam session after 4 weeks of experience.
This episode was recorded on the banks of the Chattahoochee River just south of Columbus, Georgia using battery power and the Behringer A/D converter box supplied by the generous donations of my patreon Patrons. Thanks, you guys and gals!
Thank you to my Patreon supporters. YOU are a large part of making this happen. I do appreciate it!
Another way to support the podcast is by purchasing some of my instructional products and by sharing my site with others.
If this embedded audio player does not work on your device just click on one of the alternatives (iTunes, Podbean, or Stitcher) above.
---
Like the show?

I put together this little "Supporter Pack" as another way for folks to support the show. You can set the amount to whatever suits your lifestyle and download a little complimentary "stuff".

Unfortunately, producing a "free" podcast is not free. Kick in a little dough and help the cause.
---
The music for this episode is:
Intro - Buddy Ashmore and Pony Express singing Prison Walls written by Randy Godwin.
Outro - My mandolin duet called "Laird's March"--all parts played by me, myself and I.
• List of all podcast episodes