Bradley Laird's Grass Talk Radio Podcast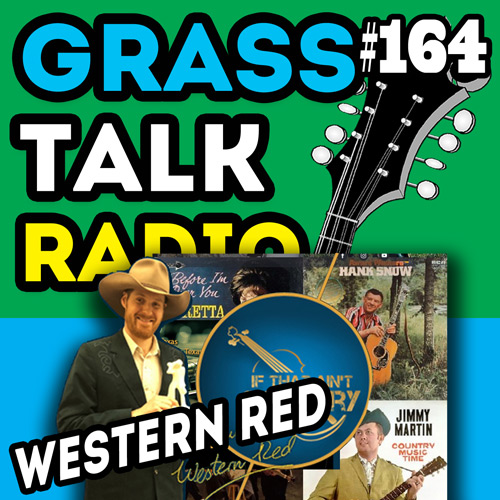 ---
Support the show with Patreon
---
---
The podcast for people who play bluegrass music or want to!
---
Episode 164 - Western Red Interview
Think you don't like country music? Well, considering what I hear on "country" radio today, I tend to agree. But, if you dig back just a bit you will find that bluegrass is country music!
Today I present something a little different. It has long been my contention that bluegrass, honky-tonk, western swing, and old-time country are all branches of the same tree. Think: back stage at the temple. I mean The Grand Ole Opry!
You know, that alley-way where Melissa slugged Bessie Lee. That alley Jimmy Martin strutted across to Tootsie's Orchid Lounge to douse his disappointment in another PBR. All those folks were hanging out in the same place. Musically and culturally.

To discuss these concepts, I invited a fellow podcaster and radio personality, Western Red of the If That Ain't County podcast, on to the show. I trust that you will enjoy our chat.

Your interest in bluegrass will be enhanced by listening and supporting what Red is doing. You may even go out and buy an Emmons 8 string, 4 pedal steel guitar--with a '66 Fender Twin Reverb amp-- like I did in 1978! Wish I never sold that thing! (I was young and stupid. Now I am just old and stupid. If you have a pedal steel laying around I would appreciate you packing it up and sending it to me.)
Thank you to my Patreon supporters. I have said it many times but it bears repeating: YOU are a huge part of making this happen. I do appreciate it! I sincerely do.
Another way to support the podcast is by purchasing some of my instructional products and by sharing my site with others.
If this embedded audio player does not work on your device just click on one of the alternatives (iTunes, Podbean, or Stitcher) above.
---
Links for this episode:
Direct link to the If That Ain't Country podcast.
---
The music for this episode is:
Intro - Buddy Ashmore and Pony Express singing Prison Walls written by Randy Godwin.
Outro - Buddy Ashmore and Pony Express singing Sittin' On Top of The World.
• List of all podcast episodes