Bradley Laird's Grass Talk Radio Podcast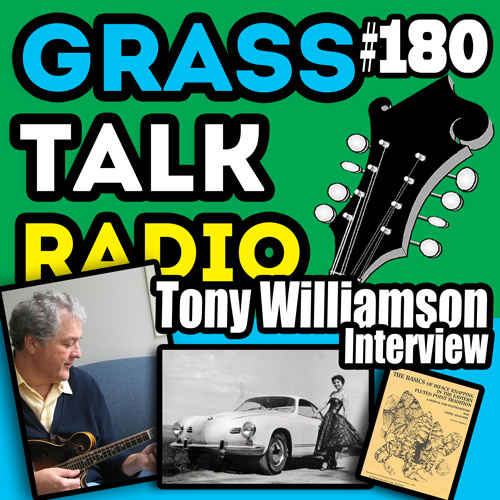 ---
Support the show with Patreon
---
---
The podcast for people who play bluegrass music or want to!
---
Episode 180 - Tony Williamson Interview
Join me on this wide-ranging conversation with Tony. We discuss mandolin world addiction, mandolin family instruments, Bill Monroe, Union Grove, overalls, the Bluegrass Alliance, Grisman's porch, Harry Sparks, how a mandolin brought a man back from near death, DGQ, flintknapping and archeology, and as if that were not enough, how a warehouse full of fine plastic guitars (made by the same man who made Django's guitar) bankrolled Mandolin Central. This a fun one and I know you will enjoy meeting Tony Williamson. (More information about the music below.)
If this embedded audio player does not work on your device just click on one of the alternatives (iTunes, Podbean, or Stitcher) above.
Links:
Mandolin Central: www.mandolincentral.com Here you will find everything--music, videos, fine instruments for sale--regarding Tony Williamson.
---
This episode also features a SPECIAL LIMITED TIME DISCOUNT:
The Mandolin Treasure Chest
http://www.bradleylaird.com/treasure/index.html
Use coupon code treasure20 to take 20% off through Feb. 14, 2021
---
The music in this episode is:
Intro - Buddy Ashmore and Pony Express singing "Prison Walls" written by Randy Godwin. Buddy Ashmore (guitar and vocal), Bradley Laird (mandolin and vocal), Randy Godwin (bass and lead vocal), Mike Estes (fiddle) and David Ellis (banjo).
Segue and Outro Music - These are little samples of a live recording made in Atlanta, Georgia, March 24, 2001 at the 7th Southeastern Mandolin Revue. You are hearing Tony and Gary Williamson wow the crowd. The tunes are Tennessee Blues and Lonesome Road Blues. See Tony's site for more music!
---
Thank you to my Patreon supporters. I have said it many times but it bears repeating: YOU are a huge part of making this happen. I do appreciate it! I sincerely do.
Another way to support the podcast is by purchasing some of my instructional products and by sharing my site with others.
---
• List of all podcast episodes