Bradley Laird's Grass Talk Radio Podcast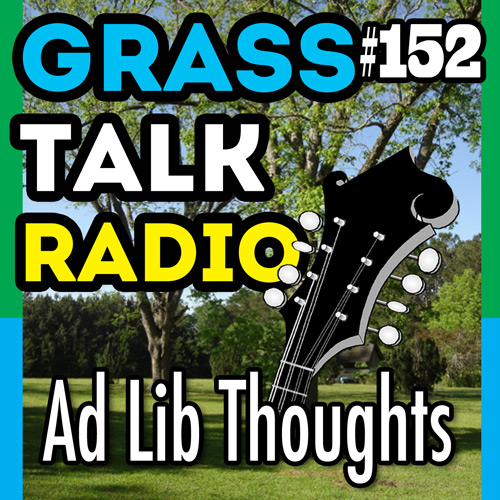 ---
Support the show with Patreon
---
---
The podcast for people who play bluegrass music or want to!
---
Episode 152 - Ad Lib Thoughts
The weather is beautiful. The sky is blue. The birds are chirping. The hens are laying. And yet everyone I talk to is worried, depressed, afraid, concerned. In short, very few folks are thinking about bluegrass. With the entire bluegrass world on "pause" right now I have to admit that it has been difficult for me to ramp up my own enthusiasm to talk and spin yarns about bluegrass. I would hit record and begin to go down little rabbit trails until I realized I wasn't really thinking much about bluegrass. Then I would hit stop. Make a few notes and begin again. Finally, I just let it roll. I suspect that many of you are thinking and feeling as I do right now.
The episode begins with a listener "favor" email read by Jackson and then I talk about life's essentials, how breathing affects muscle tension, and how to focus your attention in a laser like fashion. More rambling and a shout out to a fellow podcaster who just released another great new episode.
Thank you to my Patreon supporters. I have said it many times but it bears repeating: YOU are a huge part of making this happen. I do appreciate it! I sincerely do.
Another way to support the podcast is by purchasing some of my instructional products and by sharing my site with others.
If this embedded audio player does not work on your device just click on one of the alternatives (iTunes, Podbean, or Stitcher) above.
---
Links for this episode:
The Josh Cole Bluegrass Podcast - All of you should also be listening to this show! Now more than ever.
---
The music for this episode is:
Intro - Buddy Ashmore and Pony Express singing Prison Walls written by Randy Godwin.
Segues - Hard Ball, a mandolin instrumental written by Bradley Laird (me) as a tribute to Bill Monroe who loved baseball and threw a mean fast ball. Played by my old band Cedar Hill.
Outro - Sittin' On Top Of The World, performed by Buddy Ashmore and Pony Express.
• List of all podcast episodes