Bradley Laird's Grass Talk Radio Podcast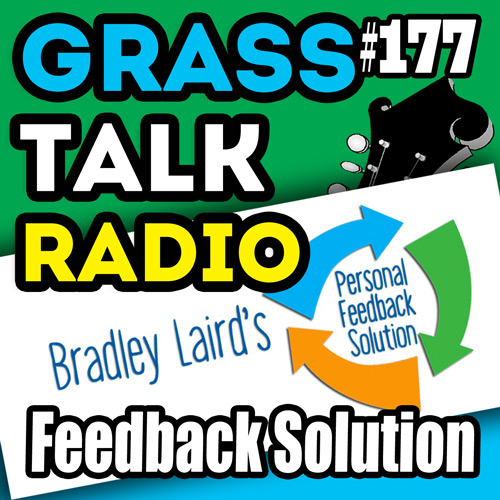 ---
Support the show with Patreon
---
---
The podcast for people who play bluegrass music or want to!
---
Episode 177 - Feedback Solution
This episode features a peek into my "feedback solution" that I offer to bolster my various video lessons and courses. Today we hear the audio from a fellow student and I break in and offer my two cents worth on a variety of subjects. This will be especially helpful to beginning mandolin students but will also give everyone else a glimpse into how my feedback solution works. Have fun and thank you, Heather!
This episode also features a SPECIAL LIMITED TIME DISCOUNT just for bass players and wannabee bass players. Don't wait! Take advantage before Jan. 31, 2021!
-----------------------------------
Bluegrass Bass Complete Learning System
http://www.bradleylaird.com/bass/index.html
Use coupon code bass20 to take 20% off through Jan. 31, 2021
------------------------------------
Personal Feedback Solution
Get feedback from the guy who wrote, filmed and recorded the lessons. Follow this link to get all the details. Though the episode featured a mandolin student, this can be used by students of any instrument which I teach.
---
Thank you to my Patreon supporters. I have said it many times but it bears repeating: YOU are a huge part of making this happen. I do appreciate it! I sincerely do.
Another way to support the podcast is by purchasing some of my instructional products and by sharing my site with others.
If this embedded audio player does not work on your device just click on one of the alternatives (iTunes, Podbean, or Stitcher) above.
---
The music for this episode is:
Intro - Buddy Ashmore and Pony Express singing "Prison Walls" written by Randy Godwin.
Outro - "Harvey Johnson" written by Bradley Laird and recorded by Cedar Hill on the album "Don't Let The Stars Get In Your Eyeballs".
• List of all podcast episodes