Bradley Laird's Grass Talk Radio Podcast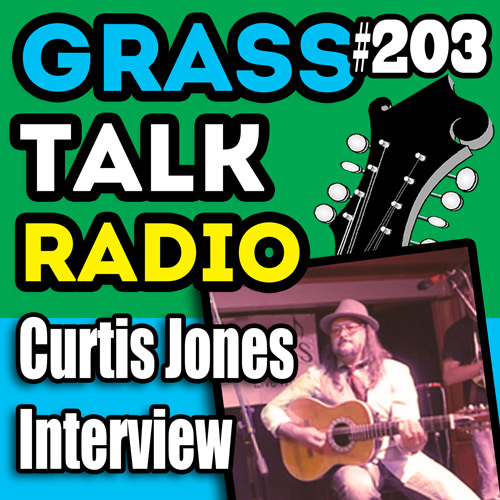 ---
Support the show with Patreon
---
---
The podcast for people who play bluegrass music or want to!
---
Episode 203 - Curtis Jones Interview
Curtis Jones is a supremely diverse musician and a world-class acoustic guitarist. Down to earth, humble, charming and amazingly gifted. I know you will enjoy meeting my friend Curtis Jones. If you want your mind blown, go see him play live.
His interview is another in my series to try to convince the listeners that Georgia has produced an amazing number of fine bluegrass musicians. Sometimes many people tend to think that great bluegrass simply must come from Kentucky, North Carolina, Virginia or Tennessee. Curtis is one more great example in favor of Georgia born musicians.

Enjoy the show.
If this embedded audio player does not work on your device just click on one of the alternatives (iTunes, Podbean, or Stitcher) above.
---
The music in this episode is:
Intro - Buddy Ashmore and Pony Express singing "Prison Walls" written by Randy Godwin. Buddy Ashmore (guitar and vocal), Bradley Laird (mandolin and vocal), Randy Godwin (bass and lead vocal), Mike Estes (fiddle) and David Ellis (banjo).
Seque Music - This is from Curtis' CD "Blue As I" (1998) and is a bit of his original instrumental "Pistol Pete". The outro music is his song "Better Days" from the same recording.
Outro Music - The outro music is his song "Better Days" from the same recording.
Both tunes feature Curtis Jones on guitar, Alison Brown on banjo, Dan Tyminski on mandolin and Missy Raines on bass. "Better Days" features Curtis singing lead with Shawn Lane singing tenor.
Thank you to my Patreon supporters. I have said it many times but it bears repeating: YOU are a huge part of making this happen. I do appreciate it! I sincerely do.
Another way to support the podcast is by purchasing some of my instructional products and by sharing my site with others.
---
• List of all podcast episodes