BY BRADLEY LAIRD
Christmas Songs For Mandolin
Two years ago my son Jackson and I created this downloadable PDF ebook called Christmas Songs for Mandolin: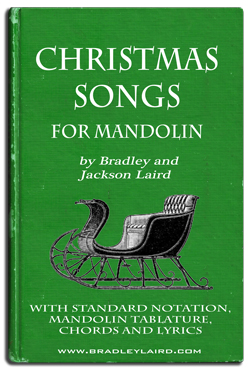 Christmas Songs For Mandolin eBook (You can download a free preview there too!)
Each year he counts on the 50/50 split arrangement we have to fund his Christmas shopping spree! He created all of the material you will see in the book in Sibelius notation software. When he completed his work, I checked all of the mandolin tablature and, in a few cases, suggested moving the songs to more mando-friendly keys. When it was all done we uploaded it to my online store.
Recently he recorded a podcast episode on my http://www.GrassTalkRadio.com bluegrass podcast and he describes the project in his own words. Enjoy. Here it is...
Bonus Episode - Christmas Songs - This is hosted by my 11 year old son Jackson. What a kid! Near the end you'll hear me playing a bit of mandolin along with the lad. I should have left it in the case! He is a far better musician than me. (It's probably because I used to play the banjo into Mom's tummy when he was swimming around in the womb. She didn't like it but I think the Earl Scruggs influence affected his little 8 cell brain. That's my theory and I am sticking with it.)
In that podcast he said that "if sales were good" he would post some piano arrangements (he was improvising what you hear on the podcast--not bad for a kid!) and we are using this post to make good on that promise.
Here is his piano arrangment for "Angels We Have Heard On High." Download it and enjoy! Not bad for an 11 year old kid!
Here is the audio of that same arrangment.
MP3 File of the above arrangement.
God bless you all and thank you for your support and love.


---