FREE BANJO LESSONS - by Bradley Laird
FREE CLAWHAMMER BANJO TABS
Here is an interesting rendition of what may be the most popular tune these days in both old-time and bluegrass circles. This is played in a "notey" melodic style and uses quite a few drop thumbs. Don't rush. If you can't play this, just slow down. You will eventually get rolling.

THE RED HAIRED BOY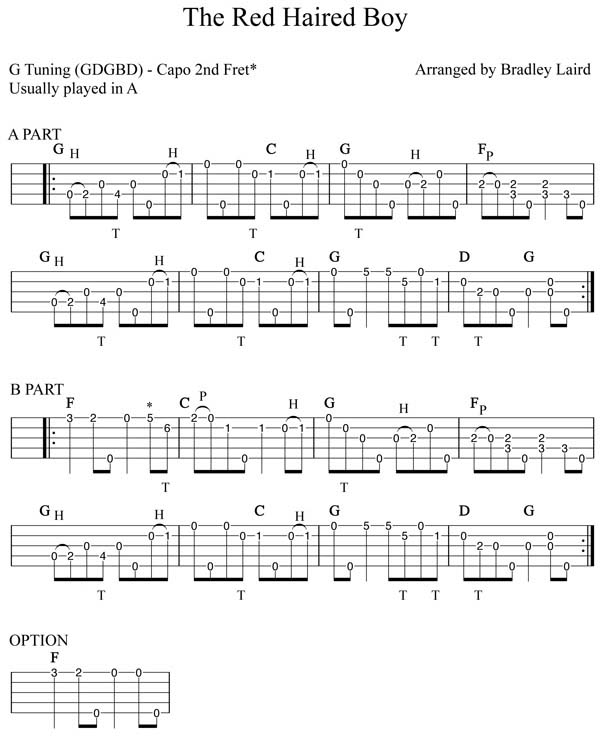 Notes about the arrangement: Measure 7 of the A Part requires some forethought to plan your fingering. I play the 5th fret, first string with my ring finger and the 5th fret, 2nd string with my middle finger. Then, it's a jump down to play 1st fret on the 2nd string with my index. Work at it slowly until it becomes second nature.
Those two notes (5,6) at the end of the first measure of the B Part can be tricky but they are to good to leave out. I use my index on 5 and my middle finger on 6, then a quick hop over to use my middle finger on that 2nd fret pull-off in measure 2. If all of that is too tricky you can also play the much simpler optional measure shown at the end.
There are a lot of drop thumbs in this arrangement. If you are puzzled by "drop thumb" I teach the technique in my video lessons 13 and 14.
If this tune is beyond your present abilities please go through the free lessons on this site, and scope out my video lessons here. A large part of my video lessons are also available on DVD with a printed tab booklet containing the tablature and chord charts used in the lessons. Click on these book covers for more information...
---
If you recently bought a banjo be sure to click here for advice.