FREE BANJO LESSONS - by Bradley Laird
FREE CLAWHAMMER BANJO TABS
Here is a different way of playing Shady Grove. In video lesson 9 I teach the tune in G modal tuning. This version has the melody up on the higher strings and I devised this tuning to make it easier to play.
I've never heard anyone else use this tuning but surely someone has and I just haven't run across it before. The tuning notes are: F on the 5th and then D, A, C, D on the 4th through 1st. Interesting sound and possibilities.

SHADY GROVE IN Dm7 Tuning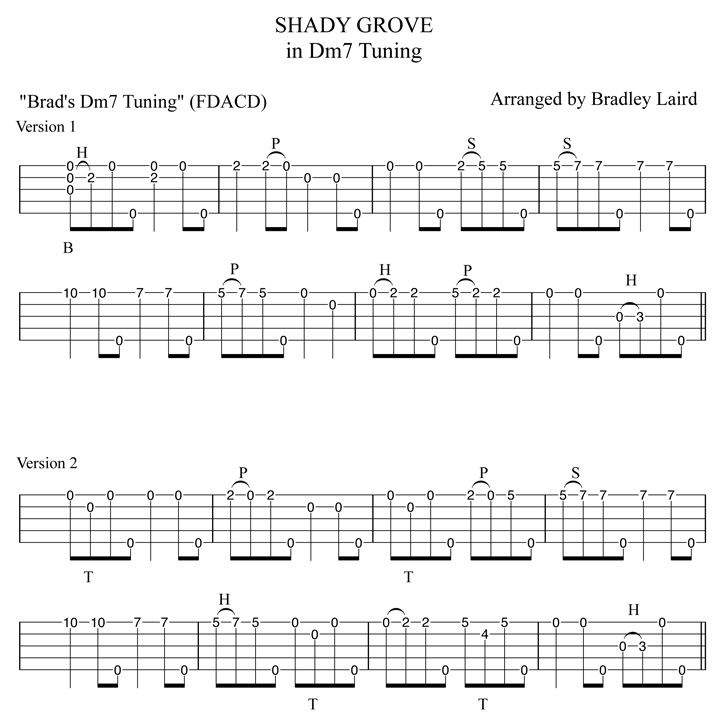 Notes about the arrangement:
There are a few drop thumbs in this arrangement. They can, of course, be omitted.
If this tune is beyond your present abilities please go through the free lessons on this site, and scope out my video lessons here. A large part of my video lessons are also available on DVD with a printed tab booklet containing the tablature and chord charts used in the lessons. Click on these book covers for more information...
---
If you recently bought a banjo be sure to click here for advice.