Bradley Laird's Grass Talk Radio Podcast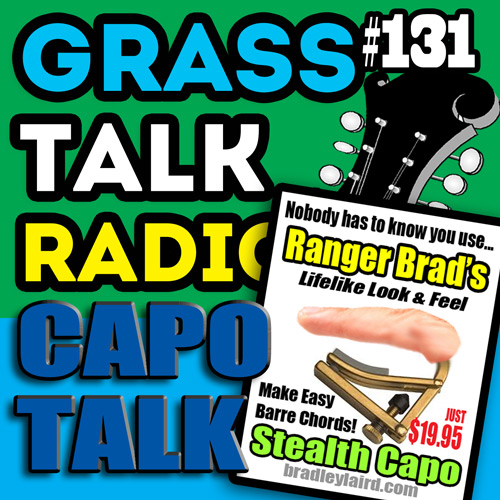 ---
Support the show with Patreon
---
---
The podcast for people who play bluegrass music or want to!
---
Episode 131 - Capo Talk
Capos. Guitar players and banjo pickers need them. Sure, you can be a wise guy and not use them, but it ain't the bluegrass way. Enjoy this diatribe on capos and be sure to scope out Sterner's Capo Museum. By the way, don't order that $19.95 Stealth Capo from me. It's a joke.
Thank you to my Patreon supporters. YOU are a large part of making this happen. I do appreciate it!
Another way to support the podcast is by purchasing some of my instructional products and by sharing my site with others.
If this embedded audio player does not work on your device just click on one of the alternatives (iTunes, Podbean, or Stitcher) above.
---
Like the show?

I put together this little "Supporter Pack" as another way for folks to support the show. You can set the amount to whatever suits your lifestyle and download a little complimentary "stuff".

Unfortunately, producing a "free" podcast is not free. Kick in a little dough and help the cause.
---
The music for this episode is:
Intro - Buddy Ashmore and Pony Express singing Prison Walls written by Randy Godwin.
Outro - A little Don Reno live track from Josh Cole's bluegrass podcast. You need to listen to all of his shows. You can find him with that link or search his name on Apple Podcasts.
• List of all podcast episodes